Early this morning (March 18), North Korea fired a ballistic missile from northwest of Pyongyang towards Japan, that traveled a distance that indicates that the isolated dictatorship's weapons could potentially reach Japan.
The missile flew for 800 kilometers (500 miles,) across the North Korean peninsula and landed in the sea between North Korea and Japan,  South Korea's Office of the Joint Chiefs of Staff said in a statement, Reuters reported.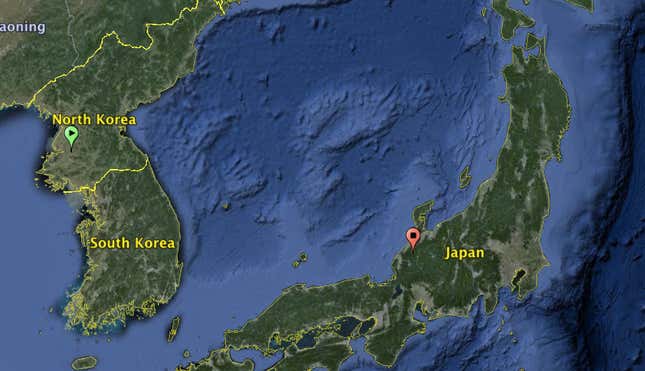 The distance between Pyongyang and one of the closest major cities on Japan's west coast, Kanazawa, is just 996 kilometers, or 619 miles. Even if the missile was fired from well north of Pyongyang, the missile may have traveled over most of the Sea of Japan that lies between the two countries.
The aim may have been to disrupt a joint US and South Korean military drill, Chinese state media implied, rather than menace Japan.
Japan lodged a protest with North Korea's embassy in Beijing. "Japan strongly demands North Korea to exercise self-restraint and will take all necessary measures, such as warning and surveillance activity, to be able to respond to any situations," Japanese Prime Minister Abe told Parliament.
After North Korea tested what it said was a hydrogen bomb near China's border in January, the UN stepped up sanctions against the country. On Wednesday (March 16) the US introduced sweeping new sanctions that China quickly opposed saying they could "raise tensions" in the region. The latest missile from DPRK is a sign they're only getting tenser.