Two explosions at Brussels airport and a third at a downtown metro station this morning (March 22) have left at least 13 dead and 35 people severely injured, according to local media. The city is on lockdown, with all buses, trams, and metro lines halted. The airport, also known as Zaventem, has been shut down and all incoming flights diverted. Belgian prosecutors blamed the bombings on terrorism.
The explosions hit the three locations during the morning rush hour. As the news of the airport blasts was being released, local news agency Belga reported explosions at metro Malbeek metro station, with local media reporting that up to ten people had been killed at the station. AFP reported that at least 15 people had been injured in the metro incident:
The station is close to key administrative buildings of the European Union.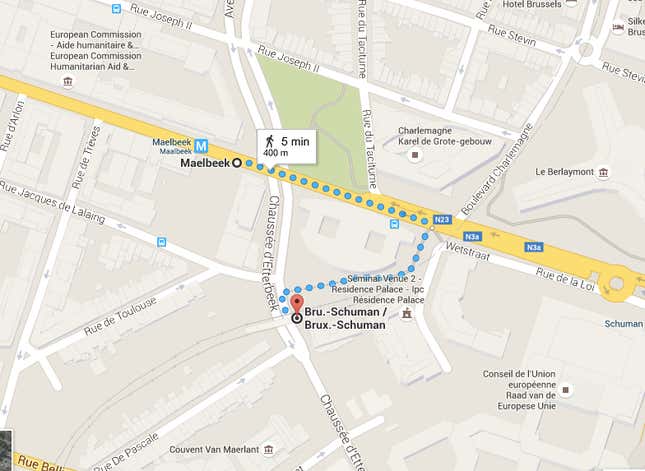 Brussels has been placed on the highest level of terror alert.
Video footage taken from outside the airport terminal showed smoke rising from the terminal and crowds running away. Photos allegedly taken inside the terminal showed dazed, dust-covered passengers.
But the attacks come just days after one of the main suspects in the terrorist attacks on Paris, in November 2015, was arrested in Brussels. Salah Abdeslam was captured in the city on Friday (March 18). Several of the perpetrators of the November attacks, which killed 130 people, were based in Brussels. On New Year's Eve, Brussels cancelled its fireworks, citing terror threats.
Charles Michel, the Belgian prime minister, warned citizens not to move around the city for the time being:
Phone networks were becoming saturated, according to Crisis Center Belgium. Those wishing to contact people were encouraged to use text messages and online platforms like Whatsapp and Facebook. Several crisis phone lines are open, however: