Remember CDs? We used to buy entire albums of music on them, before they became coasters. Then Apple jammed 1,000 songs into our pockets, and blew up the concept of buying whole albums or paying for physical media.
Now a startup from the Netherlands wants to do the same thing for news.
Blendle launched roughly two years ago in The Netherlands with a pretty simple idea: Pay very small amounts of money to read interesting pieces of journalism. If you don't like what you read, you can get your money back. It has since opened its apps and website to readers in Germany, too, with just about every story costing less than €1. From today (March 23), Blendle will available in the US, and is launching with support from the Wall Street Journal, the New York Times, The Economist, and Financial Times, among others.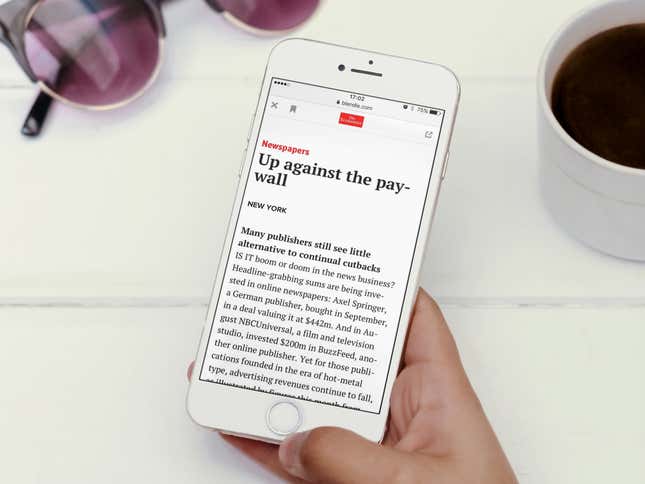 While the New York Times, for instance, allows you to subscribe online for as little as $1.88 a week, the Blendle app will allow you to buy stories from a range of publishers. The app works like a cross between article-storing apps like Instapaper and Pocket, and pay-as-you-go content stores like iTunes. There's no subscription model—you just store a credit card in the app.
Once you're in, you discover stories from a range of publications, whether through Blendle's own custom discovery algorithm, or through recommendations from friends using the service. When you want to read one, you click to buy. Blendle's co-founder, Alexander Klöpping, told Quartz that articles on the US site and app will range in price from $0.09 to $0.49. The publishers themselves set the price for each story in the app.
Klöpping, a former writer and editor in the Netherlands, believes that you won't go to Blendle for every new Donald Trump outburst, but for thought-out, analytical stories that took time to write and take time to read. In Europe, the refund rate is about 10% on articles purchased through the app.
You can also buy full versions of certain print publications to read online, or browse them and pull out single stories you want to purchase and read.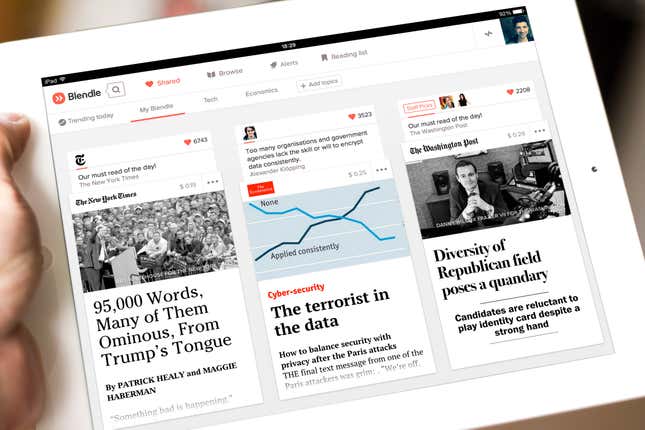 The app has the potential to do for news what iTunes did for music. Many news outlets are still searching for an online business model given that the lion's share of digital advertising revenue is captured by tech companies such as Google and Facebook. Blende's approach may not save American journalism, but it has had some success in Europe.
App users in Europe have been paying for stories that are available for free outside the app, Klöpping said. Over 650,000 users are active in Europe, and over half are under 35 years old. "There's just as much free journalism in Germany as there is in the US," he said. He added that he thinks there's "too much noise on Facebook" when it comes to finding quality news, and believes Blendle will help people cut through that.
Klöpping wants to start small in the US, so the initial beta for the app will only be available to the first 10,000 people who head to the site. If beta testing goes well, Bendle will open the app to more users.  "It is a beta after all, so community feedback is super important," Klöpping said.
It remains to be seen whether Blendle can be successful in the US, considering how much free content is available online. Klöpping also didn't rule out a Spotify-style subscription model for the service in the future. "I don't mind how people pay for journalism—I just want that they do."