This post was corrected on 23 March 2016. 
Najim Laachraoui, a suspect wanted in connection with the Brussels bombings, is still on the run.
Reports emerged this morning that the man, wanted in connection with the Brussels bombings yesterday (March 22), had been arrested. It appears to have been a case of misidentification, which nevertheless made it into multiple reports, citing government sources. It remains unclear who the police have arrested.
Laachraoui, who goes by more than one name, was already the subject of a manhunt because of his suspected connection to the Paris bombings that killed 130 people in November.
A CCTV image of Laachraoui from Brussels airport was released by police yesterday. It apparently showed him, dressed in white, standing next to the two brothers who would go on to blow themselves up in two explosions, killing 14 people and wounding many others. The brothers, who both died, were named as Khalid and Brahim el-Bakraoui.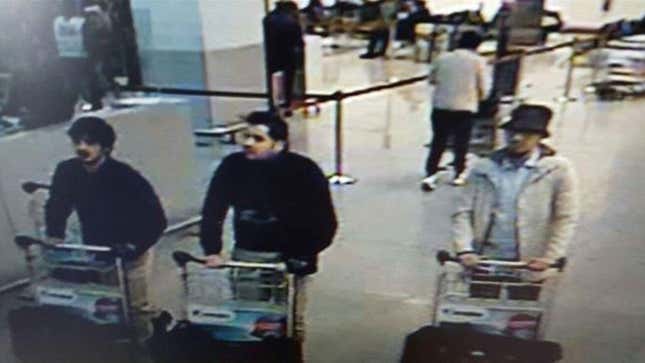 Brussels was hit by three bombs yesterday during the morning rush hour. More than 30 people were killed and 250 injured.
Laachraoui also goes by the name of Soufiane Kayal, Reuters said. Before the attacks, Frederic Van Leeuw, the lead Belgian investigator, said Laachraoui's DNA had been found in houses in Belgium used by the Paris attackers, Reuters reported.
Belgian police on Friday (March 18) finally arrested Salah Abdeslam, one of the men who planned and carried out the Paris attacks in November, but fled the city alive. Four months later, he was tracked down to a house in Molenbeek, the Belgian suburb where he and some of the other attackers had lived with their families.
Correction (23 March 2016): This post originally stated that Najim Laachraoui had been arrested.