The Los Angeles area has an abundance of themed taquerias. Azteca Mexican Restaurant in Garden Grove, for example, is the place to go if you prefer your carnitas surrounded by Elvis memorabilia.
But Tacos Los Desvelados, a drug lord-themed taco shop that opened last fall in a strip mall southeast of LA, may be the only one fetishizing the players in an illicit international trade that has killed tens of thousands of people in Mexico alone and cost billions of public dollars.
From a location tucked between a tax preparation office and a shop selling water and donuts, the taqueria's menu reads like a historic Most Wanted list.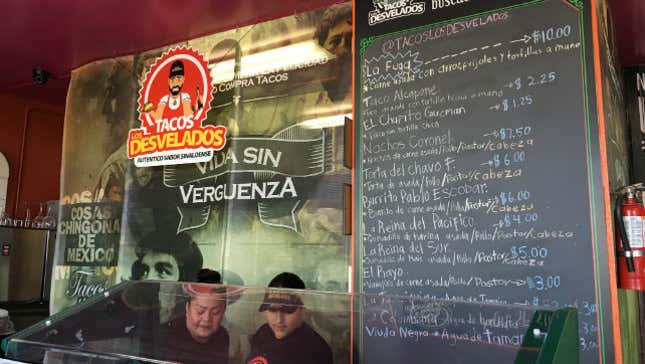 There's the quesadilla La Reina del Pacifico, named for Sandra Ávila Beltrán, a cartel leader and third-generation drug trafficker currently serving time in a Mexican federal prison. The torta del Chavo F refers to El Chavo Felix, a higher-up in the Sinaloa cartel. The burrito Pablo Escobar honors the Colombian kingpin gunned down by police in 1993. There are also shout-outs to fictional drug lords, like Al Pacino's Tony Montana from Scarface.
The taqueria's décor acknowledges the personality cults surrounding traffickers who have wreaked devastation and infuriated law enforcement in multiple countries. The recently recaptured Sinaloa cartel chief Joaquín Guzmán Loera, better known as El Chapo, or "Shorty," is a folk hero in parts of Mexico, admired for his canny evasion of law enforcement and benevolent gestures toward locals.
Here he is immortalized with a shrine in the corner and the tacos el Chapito Guzman, served on tiny tortillas.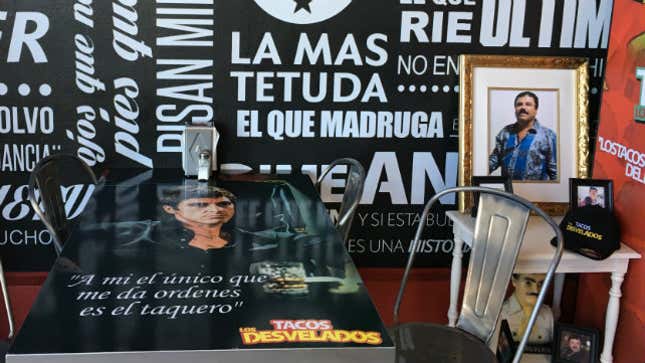 The street-style food is tasty: in the name of research, Quartz downed a quesadilla la Reina del Sur, named for the fictional trafficker in a popular Telemundo telenovela of the same name, and the carne asada tacos Guzman. The food gets praise on Yelp, with a few angry one-star comments criticizing the theme. "Anyone that thinks that the theme of this restaurant is cool needs to get a clue," wrote one.
"If you like drug cartels so much go back to Mexico," said another.
Customer feedback has been largely positive, a manager told Quartz this week while dishing up orders: "Everyone just wants to come in here and eat and take pictures."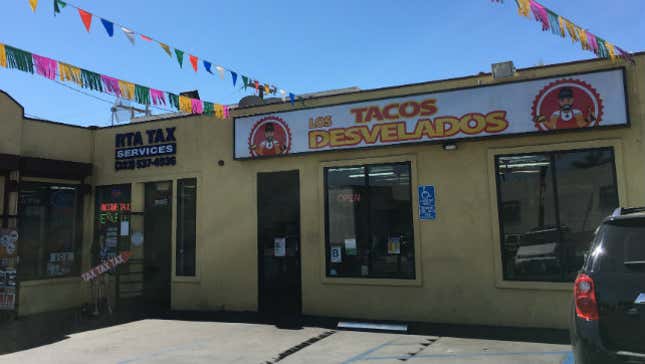 As one writer pointed out, countless Italian restaurants across the US with names like The Godfather's and Goodfellas play without criticism on pop culture's romanticized portrayal of brutal real-life crime syndicates.
And tacos have played their part in the drug war as well. The Mexican agents who recaptured El Chapo in January found their man after a safe house they were watching sent a messenger to pick up a suspiciously large taco order.
Perhaps the 5-foot 6-inch drug lord would have done well to remember the saying painted on the wall at Tacos Los Desvelados: El dinero no compra la felicidad pero compra tacos. Money can't buy happiness, but it can buy tacos.