Estimates of oil and gas reserves are readily available, if much debated. But what about the world's supplies of renewable energy – just how much wind, solar and biofuels can be tapped in the decades ahead?
A report released today by market research firm Bloomberg New Energy Finance (BNEF) attempts to quantify "renewable reserves" of wind and bioenergy in the US and Brazil as a test case for a method that could be used by developers, investors and policymakers. (Spoiler: Those two countries possess vast reserves of wind and bioenergy.)
"Traditional energy companies, and the financial markets, have tended to disregard the reserves inherent in wind, biomass-to-power and biofuel projects, while heavily weighting those offered by the hydrocarbon extraction industry," Guy Turner, BNEF's head of commodities research, said in a statement. "There has been little focus on this issue to date."
That's in part because doing an apples-to-apples comparison isn't easy. Unlike oil and gas, renewable energy doesn't run out. Moreover, fossil fuels have to be extracted from where they lie, whereas renewable energy can be harvested almost anywhere (though some places are obviously better—winder, sunnier—than others). The method used by BNEF, which tracks 38,000 renewable energy projects around the world, was to estimate the onshore wind and bioenergy reserves that would be produced by both existing and planned commercial projects over the projects' expected lifetimes.
The study measured how much electricity the renewable projects would generate compared with how much comes from burning oil, so the renewable energy reserves are measured in "barrels-of-oil equivalent" (bboe). Below is the resulting estimate of the US's renewable energy reserves—substantial, but less than its fossil fuel reserves, especially coal.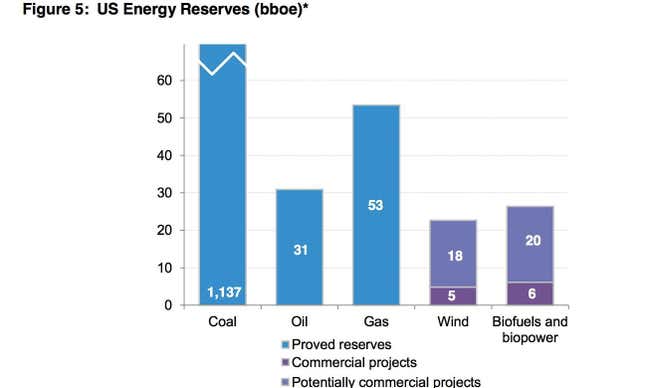 Potential reserves in Brazil, on the other hand, outstrip the country's relatively small fossil-fuel deposits.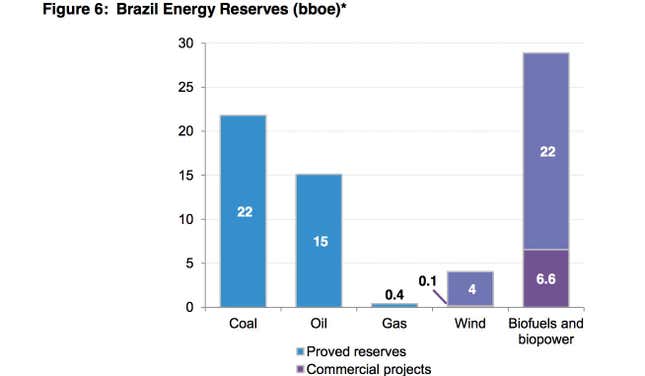 While researchers cautioned that a more detailed analysis needs to be developed to better estimate renewable reserves, they said the methodology could also be applied to solar, geothermal and other forms of renewable energy.