The Port of Los Angeles is one of the largest in the United States. Along with its sister Port of Long Beach, they handle about 40% of US port traffic. It's a good place to look for a leading indicator of America's trade balance, and one statistic is glaring: Half of the shipping containers exported from the port this year have been empty. Last year's average for empty containers shipped out was 47%.
The main cause of this is America's trade deficit. The US imports so much more than it exports that it simply doesn't have enough goods to fill the containers on their way out, but the shipping companies who own the containers still need them in export markets where goods are waiting to move abroad. This "repositioning" of empty containers is something of a hassle, costing shippers $16 billion each year.
Here's the last year of full containers imported and exported from the Port of Los Angeles: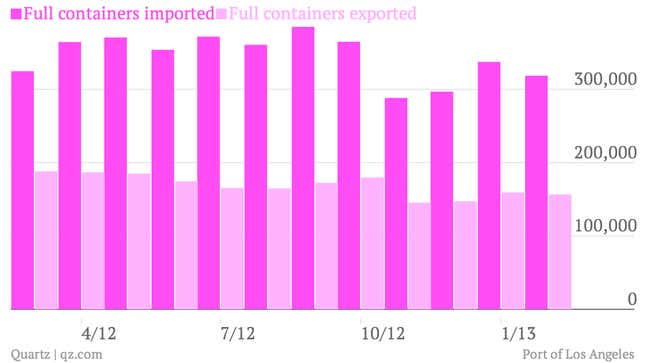 Calculated Risk has more analysis of recent traffic patterns at the Los Angeles ports that suggest a bigger American trade deficit with Asia last month.
Photo above by AP/ Nick Ut. Illustration by Quartz.