Downsizing China's coal industry isn't going to be easy for Beijing, which is trying to trim overcapacity nationwide to make the economy more efficient.
China's government aims to cut capacity in coal mining by 9% over the next three to five years, and the Ministry of Human Resources announced huge layoffs in February of 1.3 million workers at state-owned coal companies (along with another 500,000 in steel sector) to meet that goal. Already, coal workers in the northeast staged days-long protests to demand unpaid wages, as their employer runs out of money.
In an unusual attempt to prevent more protests, some of China's biggest coal mining companies are now focusing on other businesses entirely, Chinese media reports. Coal mining companies in Jincheng, a city in north China's Shanxi province have embraced pharmacies, solar power stations, restaurants, supermarkets, and vegetable and fruit planting, National Business Daily (link in Chinese) reported on Mar. 28.
Shanxi is home to much of China's coal industry. The northern region depends on coal-related industries for 80% of its GDP, and produces more coal than any other country other than China. Shanxi's Jincheng city stores more than 25% (link in Chinese) of China's high-quality coal known as anthracite. As the industry slows, it has suffered—in 2015, Jinchen's GDP growth was 2.7%, the slowest in over two decades.
So coal mines in Jincheng have to change. One prominent example is the state-owned Qianhe Coal Industry, NBD reported. Back in 2012, Qianhe founded a subsidiary to produce agricultural products including tofu and potato noodles. Now it aims to transform from coal mining to the sideline business entirely, Bi Lieyong, the company head told NBD in February.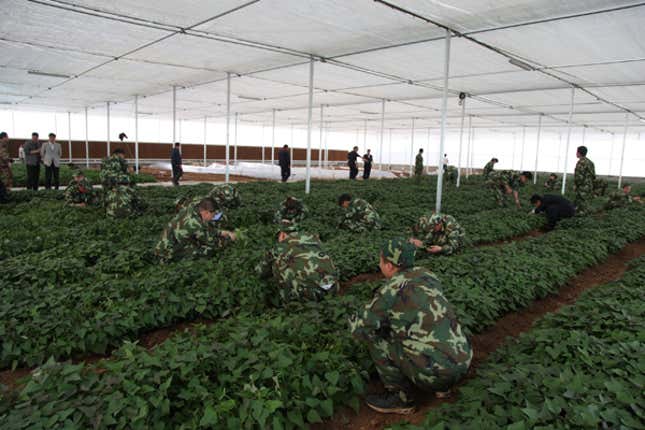 The company is struggling with debt and the sideline is not profitable yet, Bi said, but "currently the most important [task] is to pacify employees to ensure stability."
Heavy debt loads are common—the average debt-to-equity ratio at Chinese coal firms rose to a record-high 68% in 2015, a March research report (link in Chinese) by Guangfa Securities shows. China's state banks, meanwhile, hold one-third of the country's 8 trillion yuan coal and steel debt. Banks in Jincheng have stopped issuing new loans to local coal companies, and they are borrowing money from each other to keep operating, NBD reported.
But that's not the worst part. Some Chinese coal firms are even faking their earnings to borrow from banks, Economic Information Daily reported (link in Chinese) on Mar. 29. An unnamed executive told the newspaper his company recorded a net loss of 1 billion yuan ($155 million) last year, but faked a 50 million yuan profit in order to extend their bank loans. "Coal firms are having a hard time in the next three to five years," the company head said, adding "many firms probably won't make through this year."