Things are looking up for the airlines. The International Air Transport Association, which represents 80% of global carriers, revised its expectations for 2013 today to a net profit of $10.6 billion, up from an earlier estimate of $8.4 billion. Last year the $671 billion industry made just $7.6 billion in net profit. The boost will come from better than expected passenger and cargo traffic. Here's a graphic of the industry's performance over the years and the new projection, from the IATA report (pdf):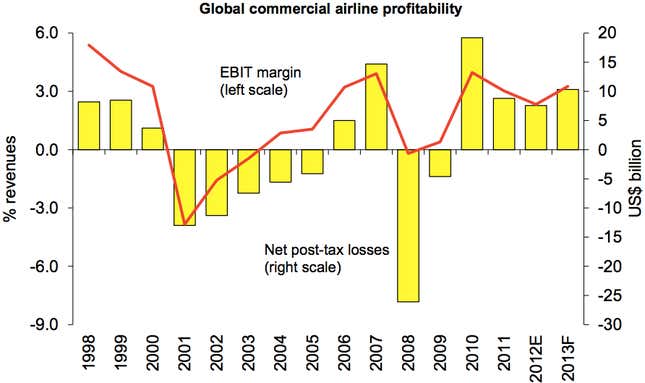 International cargo activity, in particular, is a good leading indicator for the health of the global economy. Citing improved business confidence and industrial production, the IATA says global cargo traffic should rise 2.7% this year, up from a previous forecast of 1.4%. But while the IATA is bullish on this, FedEx today reported weakness in its global air freight business and a miss in quarterly profit expectations (though that may be due to FedEx's own failure to take advantage of a global upturn in trade, as Quartz's Simone Foxman argues).
The most stable bright spot for airlines may be global passenger traffic, which should increase 5.4% instead of just 4.5% this year as travelers in emerging markets make up for slack in traditional markets. "Travel demand has been supported by robust growth in the so-called emerging markets, reflecting a longer-term shift in the center of gravity of the industry," the IATA said in its report.
This shift is noticeable in how profitable each region is. While every part of the world is expected to show a higher profit margin in 2013, margins in Asia Pacific will remain the highest, at 5.3% of earnings before interest and taxes, followed by North America at 4.1% and the Middle East at 3.4%.