If you're out in the park and someone has a heart attack, what do you do? Dialing 911 would be the most sensible option, but there's no guarantee help will arrive in time. A new patent from Google suggests it may have a solution.
A new patent awarded to Google today (April 5) outlines a device that can call for a drone to fly in with specific medical equipment. Last year, Google patented the idea of flying drones to medical emergencies with life-saving technology onboard, and now it seems the tech giant has a plan for how we would contact these drones.
The device in today's patent looks like a cross between an old HAM radio and one of the callboxes found on the sides of highways. Users would press a button for their specific medical emergency, and it would deploy a drone to the scene.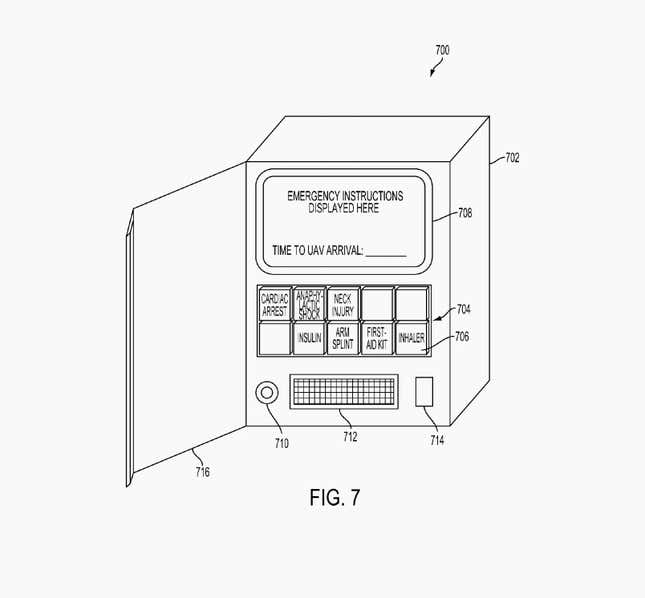 According to the Google patent, this could save precious minutes in emergencies, such as an anaphylactic shock caused by an allergic reaction, or a heart attack. The autonomous drone could head right out to the emergency with a defibrillator or a shot of adrenaline on board. As the patent puts it:
For example, if it takes 8-9 minutes for an EMS unit such as an ambulance or fire truck to arrive at the site of the emergency under normal circumstances, the first 60-120 seconds of that time may involve the dispatch (e.g., calling 9-1-1, speaking to an operator, etc.). A UAV, on the other hand can be dispatched with an example system without the human interaction required for typical 9-1-1 emergency response, and may be able to travel faster than a ground vehicle because it does not face traffic conditions and will have less distance to cover since it can travel "as the crow flies" versus following roads.
The patent also suggests that the device could deploy autonomous vehicles—perhaps like a self-driving car—suggesting that Google might also be thinking about uses for its self-driving car program beyond ferrying people on their commutes.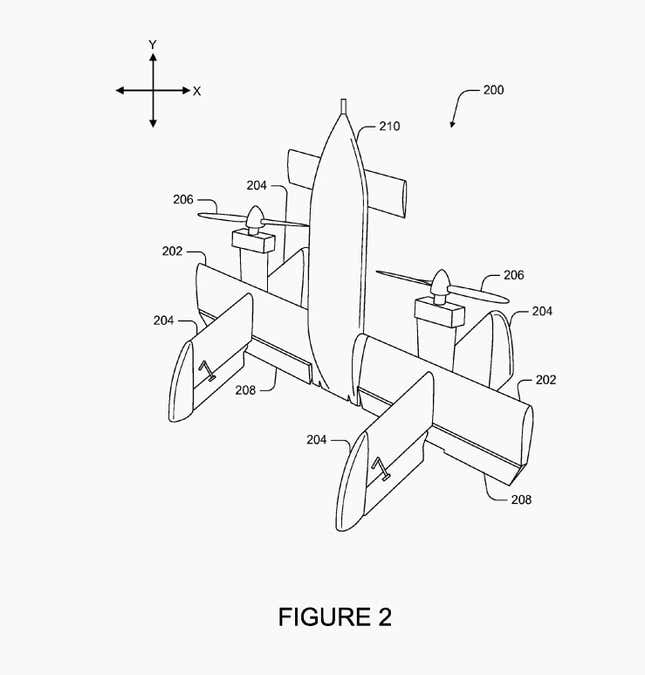 The patent also outlines how the device would connect to Google's drone fleet—it could be either though a wifi, hardwired, or a cell connection—but doesn't seem to suggest that the company has thought about implementing this in, say, an app. Presumably, the system would be most useful for people needing medical assistance wherever they are, not just near one of Google's boxes—though the drones would likely need an open space to land. It's possible Google wouldn't want people calling drones from densely-packed areas.
Google wasn't immediately available to comment, and there's no sign that the company is actively working on a medical emergency drone system. But it would be an interesting addition to Project Wing, its research program on delivery drones.
Some of the drones in the patent look very similar to the designs of drones that Google has shown in the past. Project lead Dave Vos has previously said that these drones could be in the air as early as next year. Other organizations are also proposing using drones to deliver medicines in countries such as Rwanda with remote habitations. Perhaps in the near future, a little box like the one in Google's patent could save your life—like a 21st-century Life Alert.