It's been over seven decades since the United States dropped an atomic bomb on the Japanese city of Hiroshima at the end of World War 2, killing around 140,000. In that time, no cabinet member of a sitting US president has visited the Hiroshima Peace Memorial Park (near ground zero) to pay respects to the victims—until today. Secretary of state John Kerry became the first to do so this morning (April 11) when he placed a wreath at a memorial for the bomb's victims.
Kerry's visit is part of a foreign ministers' meeting that opened Sunday (April 10) ahead of the annual G7 summit, which will take place next month in the nearby city of Shima, in the Mie prefecture. His counterparts also laid wreaths at the memorial, observing a moment of silence. The group visited the nearby museum dedicated to the tragedy, as well.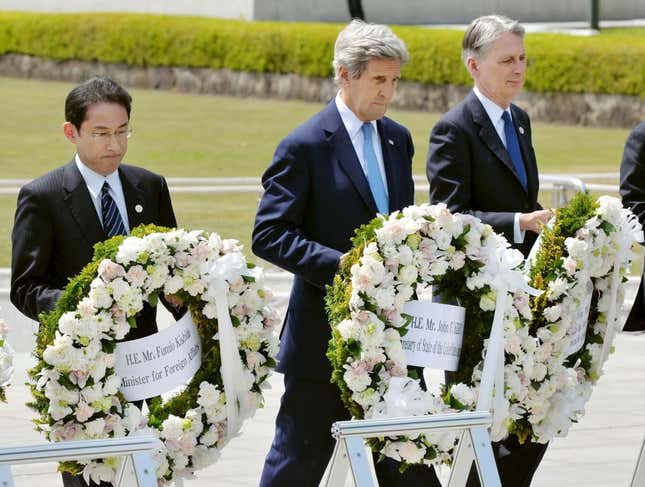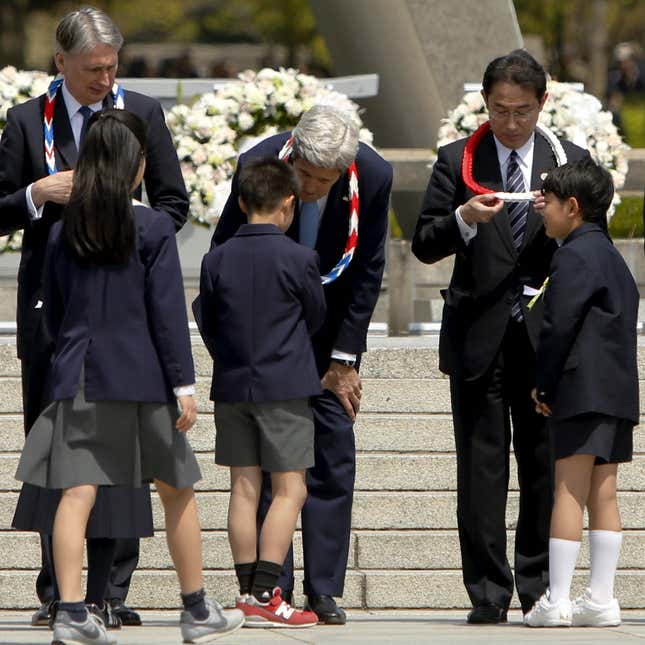 What's unclear at this point is whether US president Barack Obama will also pay his respects to the Hiroshima victims when he's in the area next month. Two or three decades ago, such a gesture from a US commander-in-chief would have been far more difficult—not least because of military veterans who fought in the war being opposed to the idea—but the passage of time has lowered the level of discomfort.
One thing Japan won't see: a US apology for dropping the atomic bomb. "If you are asking whether the secretary of state came to Hiroshima to apologize, the answer is no," a senior US official told reporters yesterday.
More than half of Americans believe that the use of nuclear weapons against Japan at the end of World War 2 was justified, according to a poll conducted last year by Pew Research Center. Unsurprisingly, most Japanese feel differently about the matter.
In a guestbook, Kerry did write that the museum was "a stark, harsh, compelling reminder not only of our obligation to end the threat of nuclear weapons, but to rededicate all our effort to avoid war itself."