If you have any memories of the original 8-bit Nintendo video game console, you probably remember the Nintendo Zapper, the light gun accessory that let users blast ducks and targets with questionable accuracy.
With its bright colors and satisfyingly springy sound, the Zapper was obviously a toy. But a new working Glock pistol designed to look just like the light gun is anything but.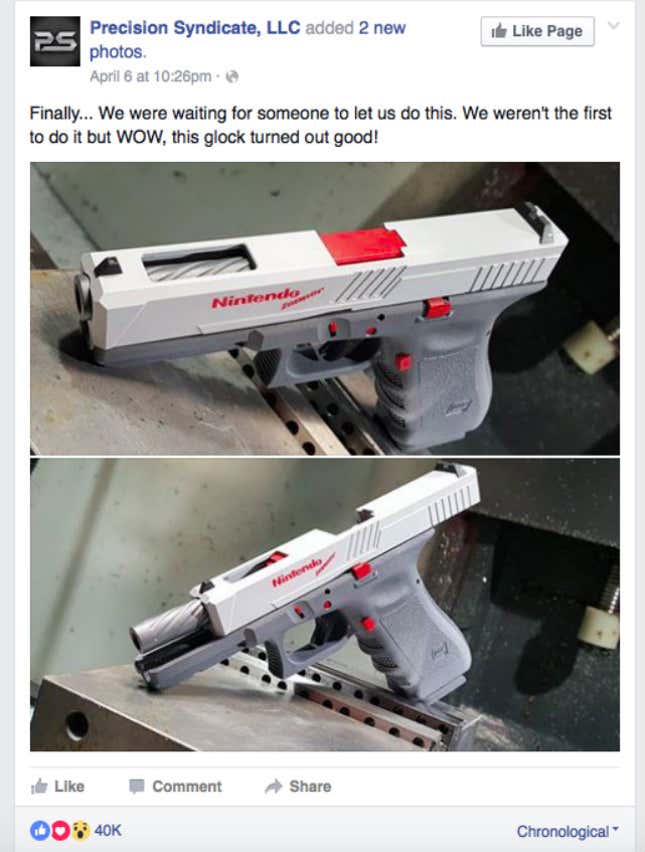 Precision Syndicate LLC isn't the only gun maker to use the Zapper as inspiration. Several designers have unveiled mock-ups of Zapper-themed guns in recent months.
But the Odessa, Texas-based company's uncannily accurate design and big social media response (more than 36,000 likes on Facebook) has attracted critics and admirers alike.
After more than 8,000 comments split between raves ("I want me one of these!") and rage ("Another way to get our kids killed"), the company posted a statement on its Facebook page clarifying that the gun was a one-off design for a friend.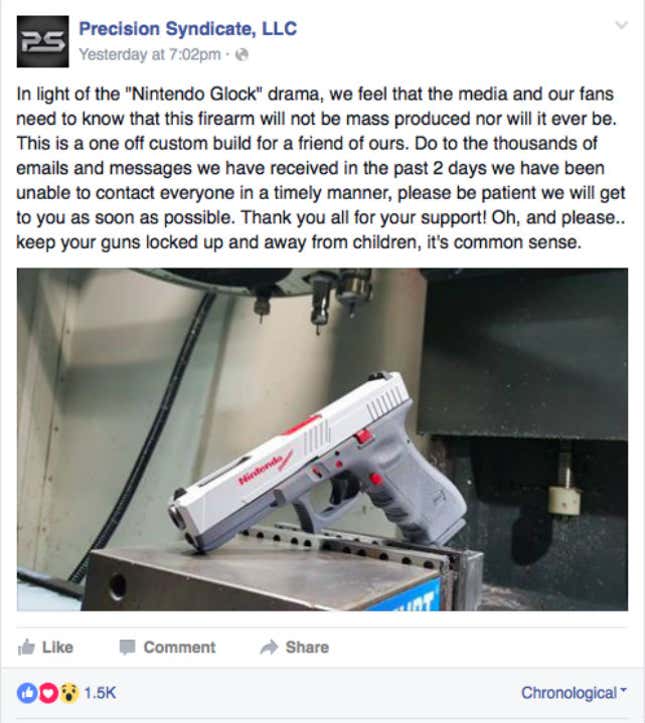 "In light of the 'Nintendo Glock' drama, we feel that the media and our fans need to know that this firearm will not be mass produced nor will it ever be," read a post Sunday (April 10). "Thank you all for your support! Oh, and please…  keep your guns locked up and away from children, it's common sense."
The custom gun designer and prototyping company describes itself on its Instagram profile as "veteran owned, veteran operated." Offered products on its Facebook page include a Glock that changes color and a handgun emblazoned with the Carolina Panthers logo, custom-made for linebacker Thomas Davis. Attempts to reach the company by phone and email were unsuccessful.
Kids have been killed while holding toy guns that looked like the real thing. In 2014, 12-year-old Tamir Rice was shot and killed by a police officer in Cleveland, Ohio, while playing with an air rifle. Police in California fatally shot 13-year-old Andy Lopez in 2013 after mistaking his toy for a weapon.
Countless more kids have accidentally killed or injured themselves or others after coming across unlocked guns they treated as toys.
Since 1989, US federal law has required that toy guns be equipped with bright orange barrel tips or be made in bright colors to distinguish them from real weapons. It's an imperfect solution—the caps are often easy to remove and easy to miss from a distance. But the idea is that kids are safer if toys and lethal weapons are clearly differentiated.
Making guns to look specifically like toys throws all that off. The Zapper even has a flash of bright orange near the barrel, just the way toys are supposed to.