Perhaps Australians are spoiled when it comes to banknotes. In a 2012 episode of the podcast 99% Invisible, design experts singled out Australia's polymer notes as being particularly sensible and innovative, especially compared to the "stale" US greenback. They noted how Australian bills are more durable, get larger with each denomination, and have more color variation, among other advantages.
But a new $5 note introduced today (April 12) might be a little too colorful. The note, which will begin circulating in September, is getting overwhelmingly negative reviews on social media.
What some view as splotches of vomit,  or "golden staph germs," are meant to depict the prickly-leaved wattle, a shrub native to the Australia.
On the front of the note is a portrait of Queen Elizabeth II.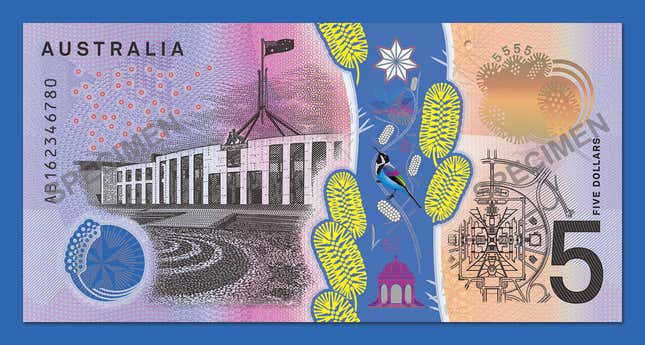 On the plus side, the currency sports a new "tactile" feature to help the visually impaired distinguish between different denominations of banknotes. Most important, the note has improved security features to make counterfeiting more difficult. Though even on that front, the note wasn't spared internet snark: