For anyone who has ever wanted to be an animal biologist, it's a dream come true: Scientists have asked the public to help conduct the largest penguin census of all time. The project, called Penguin Watch, involves tagging adult and baby penguins in hundreds of thousands of images taken by cameras installed around Antarctica.
"We can't do this work on our own," Tom Hart, the leader of the team, told the BBC.
The cameras were set up by scientists from the University of Oxford and the Australian Antarctic Division in order to monitor Chinstrap and Adélie penguin colonies, which are threatened by climate change. Warming temperatures cause ice to melt, which has reduced the krill population that the penguins feed on. By counting the number of penguins in the photos, volunteers can help the scientists track the size of the penguin colonies and the penguins' success at breeding. By tagging the images, volunteers are also helping train a computer algorithm to identify the penguins and their eggs.
It's a pretty simple process, and also fairly addictive. I signed up and tagged 10 images in about 20 minutes.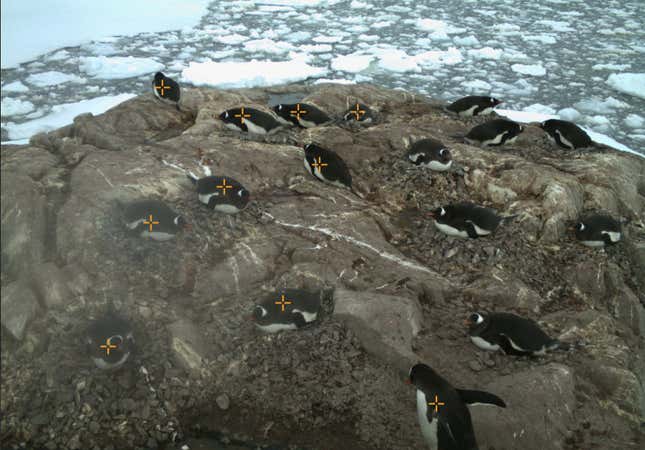 My first image, above, was nice and bright, which made identifying 17 penguins pretty easy. My second image, below, was blurrier and had over 30 penguins in it. Mercifully, the scientists allow you to move on after identifying 30 penguins. Multiple users look at and tag each photo, so if you miss a few penguins it's no big deal.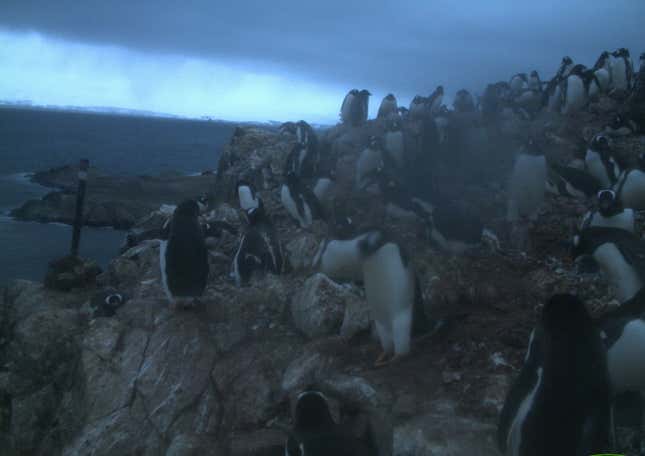 Penguin Watch initially launched in September 2014. The current version, Penguin Watch 2.0, allows users to keep track of the photos they've tagged and discuss individual photos with other users and even the scientists themselves. So far, over 27,000 people have participated in the project, and over 300,000 photos have been tagged.
If penguins aren't your thing, the crowd-sourcing scientific research site Zooniverse offers a range of other citizen science projects, including "Whales as individuals."