Legislation that could knock the world's richest man off his perch—and make phone and internet service way cheaper for Mexicans—cleared another hurdle in Mexico City today. Here's a summary:
What just happened? The Mexican House of Representatives voted to amend the Constitution to dismantle near-monopolies in fixed-line, mobile and broadband and television. (A good overview of why this is a constitutional issue here.)
How exactly will the law do this? If passed, it would create an independent regulatory agency empowered to enforce a 50% market share limit, unbundling of services, maximum pricing, and other pro-competition reforms.
What will it change? The end of Carlos Slim's and Emilio Azcárraga's near-monopolies. Slim owns 43% of América Móvil, which claims 70%-75% of the Mexican market for fixed-line telephones and mobile and broadband. Grupo Televisa SA, in which the Azcárraga family owns a majority stake, owns 70% of the television market, as the Wall Street Journal explains (paywall).
What will Slim and Azcárraga lose in terms of net worth? América Móvil alone made up $36.3 billion of Slim's net worth when the Forbes billionaires list was published (that's almost exactly half his total wealth). As América Móvil's share-price has tanked, Slim's net worth has shed around $2 billion. Azcárraga was listed at $2.5 billion on the same list, though it's not clear what his personal stake in Televisa is.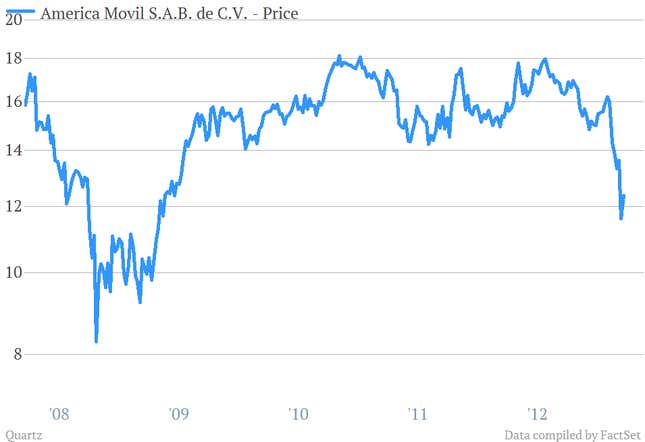 But América Móvil could still benefit—at Televisa's expense. The legislation may allow América Móvil to enter Mexico's pay-TV market, which could ultimately help it be more profitable. The prospect has helped breathe new life into the stock in the last few days.
But so could Televisa—at América Móvil's expense. Given that Azcárraga has already bought 50% of Iusacell, a mobile phone company, Televisa could further its reach in the phone market as well (paywall).
The regulation will also help Mexicans. Low competition has cost Mexican consumers something like 1.8% of Mexico's GDP from 2005 to 2009, according to an OECD report (pdf). Meanwhile, Televisa has been accused of political favoritism, and is now widely distrusted by the public.
Also, foreign companies. The law will allow foreign direct investment of up to 100% for telecom and satellite services, and 49% for broadcasting, as Greenberg Traurig, LLP, explains.
It's also a big deal for Mexico's new president. President Enrique Peña Nieto ran a pro-reform campaign, and despite a lack of progress on fighting crime, his progress on telecoms looks like a coup for him (especially since his party, the PRI, which ruled for 71 years and has just returned to power, is associated with cronyism and oligopolies). The agreement that Nieto and the PRI reached with Mexico's two major opposition parties marks an unprecedented show of solidarity. It's the second win in the Pact for Mexico plan, which the parties agreed to as a way of advancing structural reforms to the Mexican economy.
What happens now? The law moves to the Senate, where it is expected to pass at some point in April.