Chinese women who aren't married before their late 20s are sometimes derided as sheng nu, or "left-over women." But there are also "left-behind children"—the products of marriages that happened too early.
Teenage Bride, a project by photographer Muyi Xiao, reveals the family lives of teenage parents in rural areas of China's Yunnan province. Some are as young as 13. "I was shocked when I first read a piece in a local newspaper about teenage marriage in that region," says the 24-year-old Xiao, a Magnum Foundation fellow. "It's hard to stop child marriage in rural areas, because local people don't think it's wrong."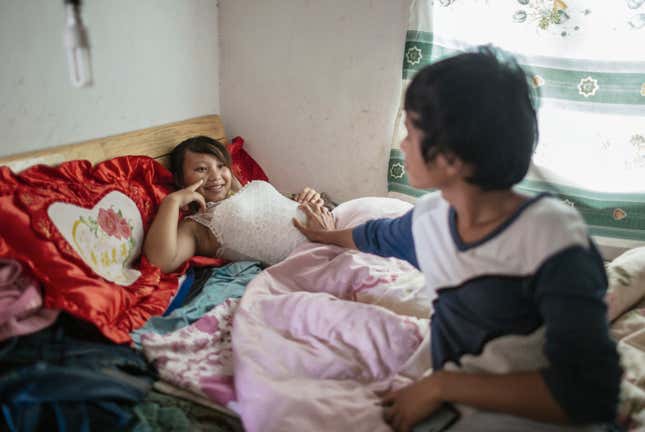 The children of these young couples are often "left behind" with family when parents come of age and head to distant cities to find work. China's household registration system limits health, education and housing opportunities for migrant workers and their children.
The legal age to wed in China 20 for women and 22 for men. Xiao says some of her young subjects had wedding ceremonies, but did not legally register themselves as married in order to avoid penalties. In Yunnan, the fine for underage marriage is about $300 per person.