Five years after a car crash that left her permanently disabled, Alessandra Miraglia isn't just waiting for the UN to pay her compensation. She's still waiting for it to tell her that it refuses to.
Miraglia works for the UN's Office of the High Commissioner for Human Rights (OHCHR) in Colombia, as a member of the UN Volunteers program (UNV). In 2010, just three months after arriving in the country, she was traveling in a UN vehicle on an official mission to the city of Santa Marta, in the northern district of Magdalena. At the wheel was Arturo Diaz, an OHCHR driver. Miraglia was dozing in the front passenger seat when, on highway 49 near the town of San Diego, the car flew off the road, smashed into a tree, and turned over.
"I wake up," she remembers. "I'm trapped by the seat belt. I'm upside down. Two bones are sticking out of my right leg. I'm bleeding. My back is killing me. Then I see Arturo. He is shouting for help. Three young men smash the rear window. They extract me from the wreckage. I wail with pain." By the time they were both brought to a first-aid clinic, Diaz was dead.
What followed was an ordeal of more than 30 hours in seven separate surgeries over the next two years. Along with that came physiotherapy, six months of which were devoted just to learning to walk again. Once an extreme-sports and hiking enthusiast, Miraglia now has an array of medical problems (link in Spanish), cannot bend fully, and cannot lift weights heavier than 10 kg (22 lb), among them her young daughter. The UN's medical insurers rate her as 60% permanently disabled.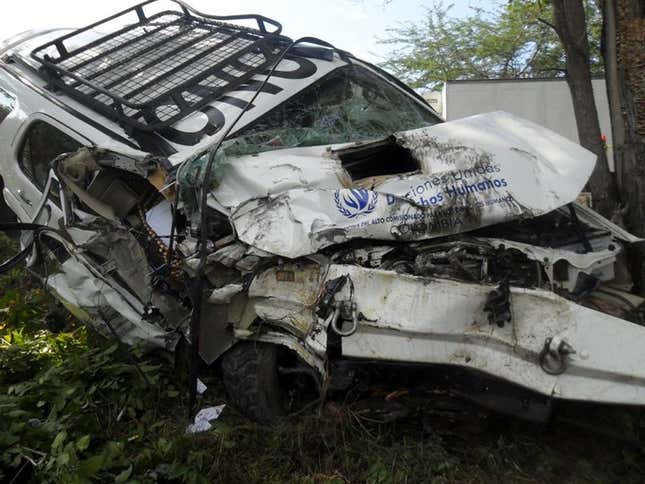 That entitles her to a lump sum of $60,000 in compensation, according to UN rules. Miraglia alleges the UN was negligent and that she should get much bigger damages. According to the UN's rules on dispute resolution, she has the right to take her claim to independent arbitration. But in a violation of those rules, the UN has been stonewalling her request for arbitration more than three years.
And she is running out of time. At the end of this year, her contract in Colombia will finally expire, and she will be left without health coverage and, she fears, even less hope of getting her complaint heard.
The conditions of the crash
According to an OHCHR accident report, seen by Quartz, the weather on Dec. 12, 2010 was clear, the highway was straight, there were no other cars on the road, and Miraglia's UN car had recently been serviced. The brakes worked, but there were no skid marks on the road, suggesting the driver hadn't braked. Though the report didn't reach a firm conclusion, "the most appropriate theory" for the crash, it said, was that "the driver was affected by physical condition that caused him loss control [sic] of the vehicle." It noted that the local police report suggested he had "had a slight sleep while driving."
The driver, Luis Arturo Diaz Alcendra, was 49. He had begun working for OHCHR in February 2009, after passing a routine medical examination. A hospital record shows that he had suffered a heart attack on September 18, 2010, less than three months before the fatal crash. At the time of the crash, the accident report says, he was taking two medicines, Lasix and Verapamil, for fluid retention and high blood pressure; both can, in rare cases, cause drowsiness.
Apparently, though, his supervisors didn't know. UN rules issued in 2005 (doc, p. 4) state that "for security officers, manual workers and drivers a medical examination shall be conducted every year." OHCHR carried out no follow-up medical checks on Diaz between his starting work and the time of the crash almost two years later, according to a statement signed by an OHCHR office assistant. In another statement, an OHCHR driver who started his job in 2004 says he wasn't tested between then and 2011. Both of them mention that Diaz had been looking unwell for some time before the crash. An addendum to Diaz's autopsy report lists his death as being of "natural" causes, with atheromal heart disease—a.k.a. hardening of the arteries—as the basic cause of death.
The rules of compensation
UN volunteers who are disabled on the job are entitled to a lump sum in compensation. It's determined by a set formula (pdf, p. 126) in the UNV handbook, which defines the percentage of disability accrued in losing (or losing the use of) various parts of the body. Each 1% of disability is worth $1,000. In an email to Miraglia's lawyer, Vanbreda International (now part of Cigna), the organization's insurance provider, says its "medical adviser determined the permanent dismemberment [sic] of Ms Miraglia Alessandra, based on the medical reports and the scale and conditions of the policy… [to be] 60%, which equals to a capital of 60,000 USD."
UNV has agreed to pay this amount. But because the UN didn't follow its own rules for conducting regular medical checks on her driver, Miraglia argues it was negligent, and should pay more. Miraglia's lawyer, Francesca Vitale, puts the total damages at €1 million ($1.14 million). She wrote in her correspondence with the the UN that "the severity of injuries, their chronicity, the limited prospects for improvement will make it impossible for the claimant to be able to live like before the accident. [H]er lifestyle choices will be influenced by [said] injuries, [and so will her] employment opportunities, [as she] will be obliged to choose only work activities that don't involve physical effort."
The dispute resolution process
In theory, Miraglia can challenge the decision on compensation. The UNV handbook (p. 78-9) sets out a dispute resolution process: First a volunteer must appeal to the head of UNV, then to the head of the UN Development Program (UNDP, which oversees UNV in the field). Each of them must reply within a set time, so the whole process may last a maximum total of 180 days. If the volunteer is still not satisfied, she can, "upon receipt of the UNDP Administrator's final decision" (p. 111), request independent arbitration.
The trouble is that no UN entity has issued a decision for Miraglia to challenge, even though the 180 days are long expired. Vitale sent the first official communication to the then UNV executive coordinator, Flavia Pansieri, on August 9, 2012. Since then, emails to some 20 different UN officals have resulted in repeated acknowledgments of receipt with the promise of responding "soon" or "in due course."
A bureaucratic tangle
Miraglia's situation may be complicated by the fact that three separate UN agencies have a relationship to her: UNV, which signed her contract; OHCHR, for which she works; and UNDP, which pays her monthly stipend, living allowance, and medical coverage.
However, "While bureaucracy complicates the organisation's relation to her, it certainly cannot explain why her case hasn't been solved for so long," says Todd Howland, the OHCHR representative in Colombia since 2013.
We contacted OHCHR and UNDP for comment, which referred us to UNV. Jennifer Stapper, a UNV spokeswoman, responded that "UNV is aware of this matter, and regrets that Ms Miraglia sustained injuries in this unfortunate accident. The matter is being handled in accordance with relevant procedures. As the case is ongoing, we are not able to make further comment at this stage." Several follow-up email requests to clarify the "relevant procedures" applying to this case went unanswered.
Since 2014, Miraglia has also written to UN secretary-general Ban Ki-moon and to the Italian mission to the UN, to no avail. "My UNV contract in Colombia has been renewed for the sixth and last time, so my work with the UN in Colombia will finish on December 31, 2016," she says in frustration. "As of January next year, I won't have medical coverage any longer, but my health problems will stay with me forever. If I cannot solve this issue while I am still in the system, who'll be listening to me once I'm out of it?"