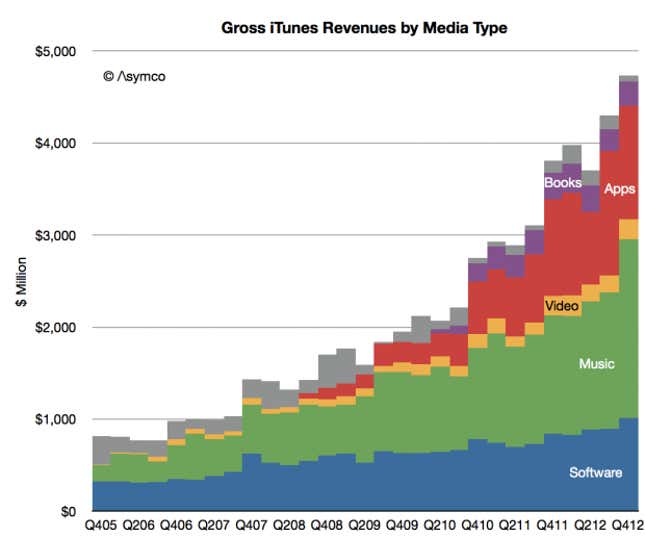 Apple has long said that it wants to run its app and media stores at break-even, but the volume of transactions on iTunes has become so huge (check out the graph, above) that even at a tiny margin, Apple appears to be making a substantial profit on content. This data comes from mobile analyst Horace Dediu. Here's his breakdown of Apple's profits on bits, not atoms:
Apple's iTunes revenue has quintupled in the past seven years. (Mind you, its overall revenue has quintupled in just the last four.)
23 billion items were sold sold through iTunes in 2012.
At a hypothetical (and not unlikely) margin for Apple of 2% on apps and 1% on music, Apple could be making $150 million a year on content alone.
Throw in Apple's software business (it's easy to forget that Apple also makes its own, from Pages and OS X to Final Cut Pro) which is now sold entirely through the company's desktop and mobile app stores, and Dediu estimates that "iTunes inclusive of Apple's own Software generates as much as 15% operating margin on gross revenues. That's over $2 billion a year."
Now, next to a net income of over $40 billion in 2012, that's still hardly game-changing. But it appears that the well-worn trope—that Apple is a hardware company that practically gives away everything else—is no longer true.