The engine started, the propeller began spinning, and with a high whine the drone shot into the air—before quickly crashing to the ground. It took a few more tries before the drone flew straight, but when it did, it soared into the azure skies above southern Guyana's grasslands, and the small crew on the ground cheered. The homemade drone zipped toward a mountain range in the distance, transmitting live video and photos as it flew.
Guyana doesn't often make the headlines. But this tiny country of 735,000 people, perched atop Brazil, has an outsize resource: the world's second highest percentage of rainforest cover. However, these lands are under threat of deforestation and pollution by wildcat gold mining and logging operations.
Southern Guyana's Wapichan community—one of nine indigenous groups in the country, numbering about 9,000 people—knew their forests were being invaded by illegal loggers and miners. But in order to compel the government to take action, they needed proof. So, beginning in 2003, they assembled an army of citizens to document their traditional lands. As technology evolved, so did their methods. At the start, volunteers trekked through the forest and interviewed the elders in far-flung villages, entering GPS coordinates and folktales alike into their smartphone records.
And then they built a drone.
Watching YouTube videos for do-it-yourself instruction and collaborating with fellow drone creators, they used bowstrings to tie parts together and a lollipop stick as an impromptu drill.
"The part doesn't fit," explained one of the men constructing the first drone as he widened a hole in a plastic joint. "So we're making a part."
With material support from the California-based organization Digital Democracy, the team chose a fixed-wing design—a solid triangle of white, with an ironed laminate cover—that can fly at a distance of 50 kilometers.
They mounted a camera donated by GoPro and programmed it to take a photo every two seconds. This created a series of stop-motion images that could later be layered to create a multi-dimensional interactive map. They controlled the drone with Mission Planner, an open-source flight-tracking software.
Being able to fix the drone—having both the technical knowledge and materials to make it work—was key to keeping the project firmly rooted in the community. If the Wapichan want to keep the drone—named Kowadad, or Osprey—aloft, they need to be able to fix it with whatever materials they can find in South Rupununi, such as plastic crates and glue.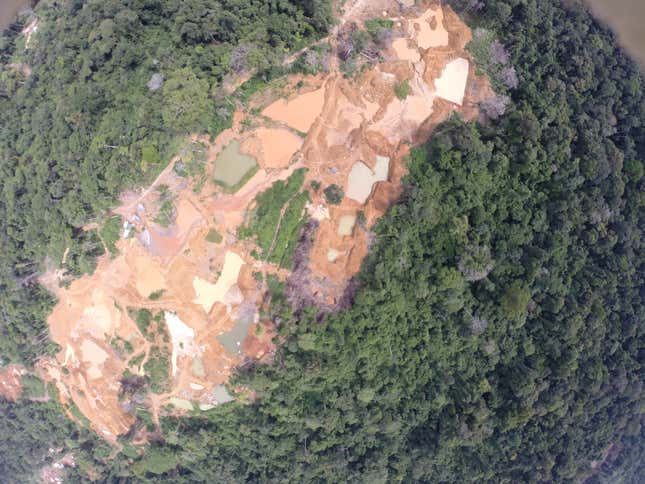 After two and a half days of work, the drone was complete. "This initiative is purely our initiative," community leader Nicholas Fredericks said. "Our people can actually see and understand for themselves what is really happening."
Fredericks, 39, was elected leader of South Rupununi's Shulinab village last year, but he'd served as a local representative in his region for years. His wife, Faye, 34, has also had an active role in organizing the Wapichan community.
The community's land rights struggle began in the 1950s, prior to Guyana's independence from Britain. In 1977, the titling of indigenous lands began. But local leaders' requests were denied; they were only granted 15% of what was rightfully theirs, they say, and have lost some of that to illegal logging. They're now fighting to reclaim some of the land that has been granted to extractive companies. Such deals, they say, reek of malfeasance. The Guyana Geology and Mines Commission has been accused of corruption, and Guyana as a whole is one of the most corrupt countries in South America.
"With the drones, we can go into really inaccessible areas," Fredericks told Quartz. Using its footage, the Wapichan are assembling a "living map" to document their customary land use—and to demonstrate to the government how outside interests were impinging upon lands the Wapichan have safeguarded for centuries.
Their drone confirmed what the Wapichan had long suspected: In the south, close to the border with Brazil, illegal loggers were harvesting trees in lands that were supposed to be protected. And the gold mine at Marudi Mountain, to the southeast of Shulinab, appeared to be leaching pollution into the headwaters upon which the Wapichan depend.
"We are hoping to get them to recognize that these maps will actually help the government to resolve issues," Fredericks said. "Without our lands, our futures are in jeopardy."
Lian Pin Koh, a pioneer in the field of drone-driven conservation, advised the team in Guyana. But the closest parallel to Guyanese project can be found halfway around the globe. Irendra Radjawali, who describes himself as a "researcher-activist," helped the Dayak community in Indonesia map their forests—and to take that evidence to the government, becoming the first community to win a land rights case based on drone imagery, Radjawali told Quartz.
For a few days last December, Nicholas and Faye Fredericks left the Guyanese forests for a different jungle. They traveled to Paris to accept the Equator Prize, an award given by the United Nations Development Programme to indigenous organizations seeking solutions to pressing climate change issues, on behalf of the South Central Peoples Development Association (SCPDA). Fredericks spoke for all Equator Award recipients in Paris.
"Our traditional practices are sustainable. We now need governments to recognize this, too," he said, his quiet voice booming through the auditorium. The winners onstage, he pointed out, conserve a total of 7.5 million hectares of forest.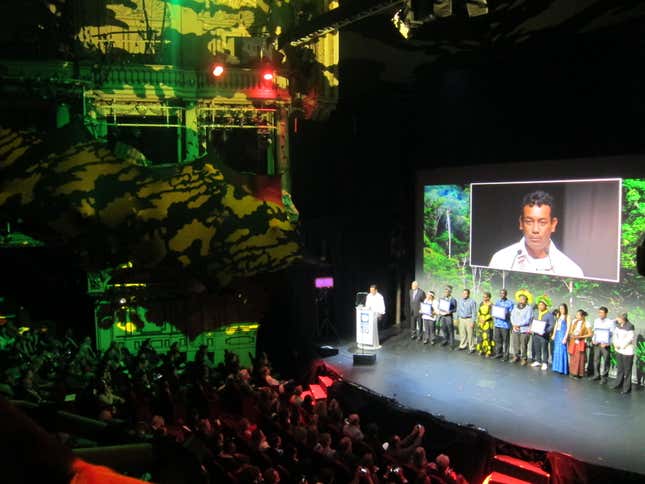 "We are the guardians of the forest," Fredericks said. "We will not stand for [its] destruction in the name of development."
International organizations like UNDP have also honored the Wapichan work, but the Frederickses have had trouble getting the Guyanese government's attention.
Last fall, the Frederickses wrote letters to the Ministry of the Environment, and the pair hoped to meet with the Guyanese delegation at COP21. But they were unable to track the environmental delegation down back in December.
However, the Frederickses are still optimistic about the new government. When opposition leader David Granger was elected last year, he installed a new cabinet, including several key ministers. The Frederickses hope to meet with some of these officials this month in Georgetown, Guyana's capital.
That meeting has become even more urgent. Just before they traveled to Paris, the Frederickses learned that the government may be interested in opening another mining community around Blue Mountain, a site sacred to the Wapichan. "In pristine forest," Faye Fredericks said, shaking her head in disbelief. "We are very, very concerned."
This story was reported with funding support from The GroundTruth Project, a nonprofit focused on international and social justice journalism.