Valerie Von Sobel just had a birthday. In March, the philanthropist and artist noted her new age in an Instagram picture, dressed in second-skin leggings and a white blouse overlaid in a sheer black fabric, perhaps organza.
It is not the outfit you'd expect of someone born three-quarters of a century ago, but at 75, Von Sobel's looks never are.
To judge by fashion runways, you'd think clothes were sold with an age limit. In numerous ways, society quietly suggests that, as you age, fashion ceases to belong to you. The market reflects that idea. Sales of women's fashion, for instance, enter a slump after the age 44.
Ari Seth Cohen's new book, Advanced Style: Older & Wiser, which is filled with street-style photos and brief profiles of older people who dress with more exuberance than the average millennial, shows that notion to be nonsense.
The new book is a sequel to Cohen's 2012 title with the same name and intent: Documenting older women and men Cohen has encountered who dress with an abundance of personality and creativity. Some are well-known, such as Linda Rodin, founder of a successful beauty line. Others less so. But Cohen finds one similarity in all of them.
"I'm trying to show women who embrace where they are in life, who celebrate where they are in life, and who continue to be active and creative and vital," he says. "It's the joy and art of dressing that I see in them."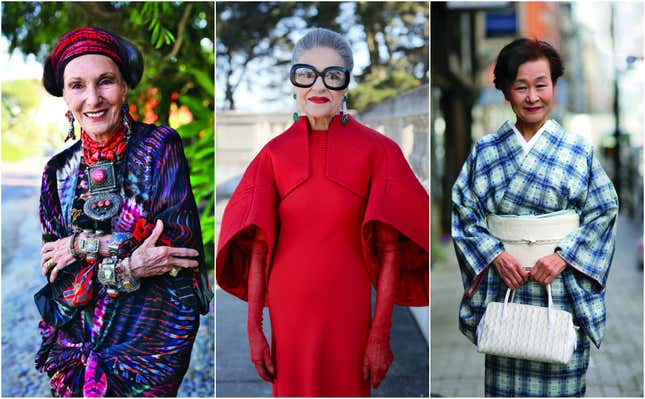 Cohen, who began photographing older people after his grandmother passed away, says his subjects are self-possessed in a way the young rarely are, and that makes the way they dress feel less self-conscious.
Von Sobel, for example, exudes confidence in every outfit she chooses. "I am truly at a point that I just don't care, and therefore I do it with abandon," she says.
Von Sobel's love of fashion started early, but being a Hungarian refugee who had to support her family, she couldn't pursue it when she was younger. Now she loves the creativity involved in putting an outfit together, and especially accessorizing one. "I travel like a camel," she says. "I'm besotted with accessories."
A few fashion campaigns have enlisted models over 60 in recent years—see Céline casting 80-year-old Joan Didion, or Saint Laurent picking Joni Mitchell. But only rarely do brands select models of that age who aren't already cultural icons, and as fashion critic Vanessa Friedman has argued, it doesn't necessarily translate to brands designing for older clients.
The people in Cohen's book show what a shame that is. There's 97-year-old Tao Porchon-Lynch, who marched with Gandhi, worked with the French Resistance to helps Jews escape the Nazis, and modeled for designers including Chanel and Jeanne Lanvin. She is now a yoga master and became an award-winning competitive ballroom dancer at 87. Her attitude comes across in wardrobe of bright, bold colors.
There are Morton and Virginia Linder, 77 and 76 respectively, who have rarely been apart for the last 53 years, and go to the Burning Man festival each year with a kite-flying group. They dress like surrealist hippies.
And there are numerous other people whose clothes defy the conventions we associate with aging.
One of the impressions you get from the book is that it's less about clothing and more about dispelling ideas about what it means to be over 60. "I think there's something very fundamentally wrong with how we view aging," Cohen says. "In America it's all about youth and trying to look younger, plastic surgery, and the fear of growing older."
In Cohen's book, growing old looks pretty great.