Palermo, Italy
On Wednesday, April 13, 898 migrants—640 men, 24 women, two babies and 232 unaccompanied boys—were taken to Palermo harbor. They were rescued by Norwegian maritime rescue ship Siem Pilot along with an Italian ship, after they called for help from seven rubber boats about 90 nautical miles off the coast of Libya, the Norwegian commander of the Siem Pilot, Torger Brenden, said.
A representative of the Guardia di Finanza, who was on board the rescue ship, confirmed that the people rescued were from 19 different African nations including Nigeria, Senegal, Eritrea, Burkina Faso, Gambia, and Sudan.
This is just the latest influx of migrants coming to Sicily by boat. In the last four days alone, 6,000 people were rescued on the so-called "Libyan route"—leaving from Libya, or at times, sailing along the coast from Egypt and then crossing from Libya. It's a seasonal increase: good weather encourages the crossing, and there is a fear that the trend will continue after the agreement between the EU and Turkey made entrance into Europe through Greece more difficult.
At the Palermo harbor, migrants are given health assistance, a briefing of their rights, thermal blankets, shoes, clothes, and food. Then, they are taken to shelters around Sicily and the rest of Italy, where they can file their request of asylum.
The migrants had been at sea less than a day before they were rescued, and no one had serious medical conditions, Henrik Hytten, who led the health services on the Siem Pilot, said.
This arrival isn't the exception, it's the new normal: 23,815 people have already arrived to the coast of Sicily as of April 14; it was about 16,000 in the same period in both 2014 and 2015.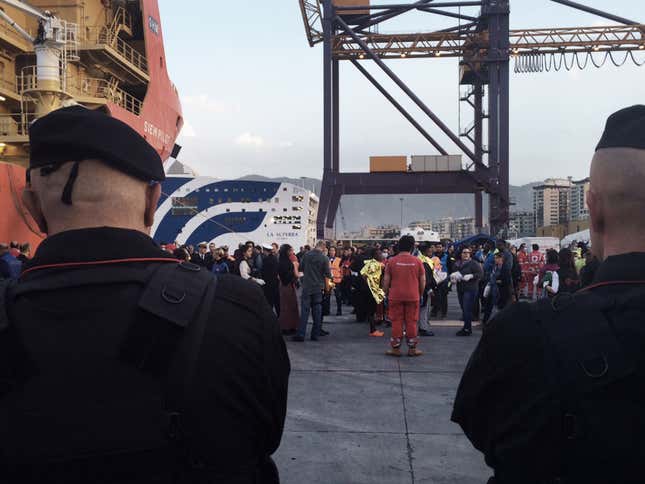 With the coming of summer, more are expected to arrive.
In Lampedusa, one of the two harbors with the largest number of arrivals in Italy, the EU High Representative for Foreign Affairs called for EU support to Italy, saying that "it is not and it cannot be geography to determine what country bears the weight of rescue and assistance," while confirming that the EU "won't trade human rights and the life of people for safety and border protection."
While these values might not be reflected in the EU's policies, which have come under attack from human rights advocates, it seems they govern the job of those at sea. When asked about immigration policies Brenden said: "that does not affect our work. Our work is to help the souls in the water."