Start your engines—or don't, because cycling just became a heck of a lot easier for those living in Mexico City.
On Sunday (April 17), Google announced a mapping project already available in cities such as London and LA was coming to the sprawling Mexican metropolis: Residents can now see bike paths available throughout the city in Google Maps, categorized by what kind of path and how smooth the ride is. It's a small step for bikers who have been mobilizing for more rights in a driver-dominated city plagued by traffic jams and pollution problems.
The routes are color-coded (link in Spanish): dark green means bike lanes with a barrier separating cyclists and drivers; light green means streets with bike lanes where the cyclists share the road with drivers; a dotted green line means streets where you could bike, but don't have designated bike lanes; and brown means dirt paths, usually beside a highway.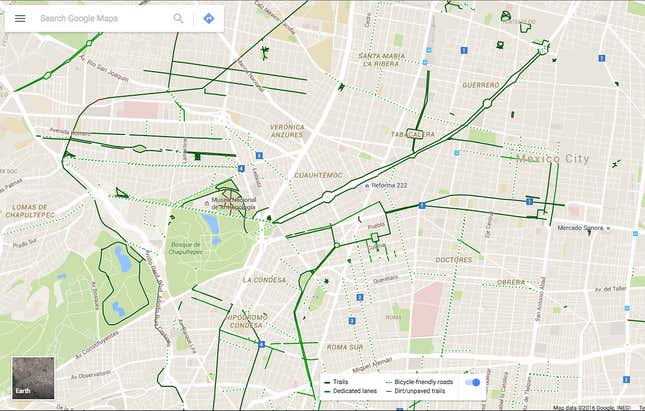 To develop the project, which was first tested out in Monterey, Google had the help of nearly 80 volunteers, including individual cyclists and riders from various local biking clubs, according to Radio Formula (link in Spanish).
The new feature is available on Google Maps for desktop, as well as on Android and iOS devices. Google launched the feature on Sunday with a big community event at the city's Angel of Independence statue, on one of the city's main thoroughfares, Paseo de la Reforma. The boulevard normally shuts down on Sunday mornings to promote walking, skating, jogging, biking—basically any mode of transportation that's not driving.