Anders Behring Breivik killed 77 people, including more than 50 teenagers, in a day-long racist rampage in 2011. Norway's lenient incarceration policies have allowed Breivik to serve his 21-year prison term in a three-room cell, complete with a television, a workout room, and a Playstation console.
But that is not enough for the convicted mass murderer. He sued the country for violating his human rights, and today (April 20), a court ruled in his favor. According to Breivik – and the court – Norway was in breach of the European Convention of Human Rights. "The prohibition of inhuman and degrading treatment represents a fundamental value in a democratic society. This applies no matter what – also in the treatment of terrorists and killers," the verdict says.
The state will have to pay Breivik's legal fees, which amount to approximately $40,500. According to Norwegian media, if neither side appeals the ruling within four weeks, the conditions of his confinement will have to be eased. The judge said the prison should "facilitate a community."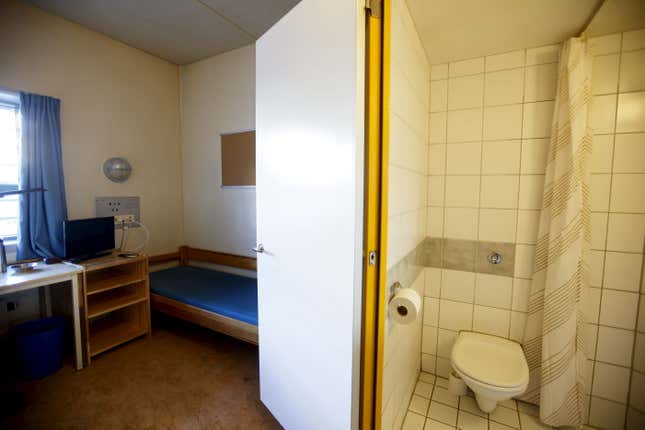 The "main theme" of the lawsuit was the extent of Breivik's isolation in solitary confinement.  This is ironic, considering Breivik's self-imposed isolation before he committed his crimes. He incessantly played the computer game World of Warcraft for more than a year, gradually secluding himself from his friends and the outside world.
In prison, he described his solitary confinement as torture, and last fall threatened a hunger strike. Norway's parliamentary ombudsman said in a report published last year that keeping him in solitary risked becoming "inhumane treatment." The court did dismiss his claim that Norway was violating his right to privacy and a family life.
The United Nations' expert on torture called for a global ban on solitary confinement in 2011, except for extreme cases. Compared to the conditions American prisoners endure in solitary confinement, often imposed for far lesser crimes, Breivik leads a comfortable, if lonely life.
In her book "One of Us," which details Breivik's life and crimes, Norwegian journalist Asne Seierstad describes some of his complaints regarding his imprisonment. Among other things, he griped that was permitted only one plastic cup of moisturizer daily, and that it would dry up over the course of the day. Another was that the austerity of his cell "denied [him] the inspiration and mental energy" of art on the walls. In a letter to AFP in 2014, Breivik demanded that his Playstation 2 be updated to a Playstation 3.
Breivik's 21-year-term could be extended if he still poses a threat to society. His killing spree targeted Oslo's government neighborhood and Norway's then-ruling left wing party's youth camp. It was fueled by xenophobia and his opposition against Norway's multiculturalist policies.
Remarkably, a survivor from the killings at the youth camp at Utoya, tweeted his support for Norway's court system.