Alphabet, Google's parent company, is set to report its first-quarter earnings after US markets close today (April 21).
When the company released its results for the first time as Alphabet in February, it didn't reveal anything particularly surprising, just gave a little more clarity into how much money Google is making (a lot) and how much its "other bets"—including Nest thermostats, Google Fiber, and moonshots such as driverless cars—were collectively losing (also a lot). Chief financial officer Ruth Porat explained in last quarter's calls that "the majority of efforts within the other bets are pre-revenue."
Investors seem to have gotten over the fact that Alphabet has a number of side projects that don't make any money, especially as Porat reassures them the company remains committed to cost discipline. Investment banks are overwhelmingly bullish on Alphabet, with 47 of 51 analysts rating the stock as a buy, according to FactSet.
Here are four reasons why:
Google is expected to see the fastest growth in 17 quarters
Morgan Stanley anticipates ad revenue from Google websites to grow 27% year over year in the first quarter, with mobile driving 60% of that growth. The last time revenue accelerated so quickly was the fourth quarter of 2011, and back then, the business was half the size it is today, according to an April 7 report.
Time spent on YouTube is increasing
A billion users go to YouTube each month to watch videos, and the time they're spending on the streaming site keeps ticking up. In the first quarter, Morgan Stanley's Brian Nowak projects time viewed to increase by 42% in the US and 18% globally. "Furthermore, as in prior quarters, there is little indication that the ramp of Facebook's Premium Video ad product is exerting any sort of headwind to YouTube budget growth," added Credit Suisse's Stephen Ju. In 2016, eMarketer expects YouTube ad revenue, which is not broken out by Google, to grow by 21% to $5.18 billion.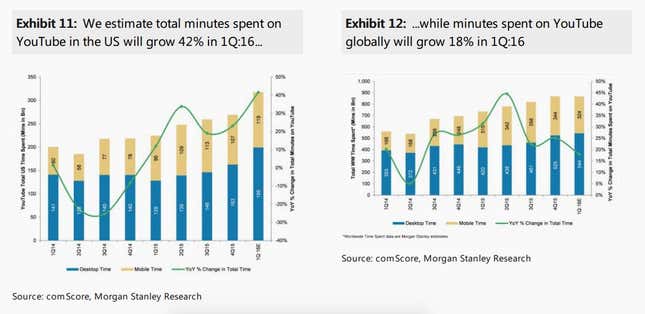 Google is gaining ground in the cloud wars
Google Cloud Platform has reportedly won over a number of high-profile clients lately, including Apple, Spotify, and Autodesk. Analysts believe the company will continue to invest in its cloud business in the short term, which "should start to show up in core Licensing & Other growth in 2017," wrote Deutsche Bank's Ross Sandler in an April 3 note to investors.
Desktop ad revenue might provide a surprising lift
Yes, mobile is the future. But while it's true desktop use and sales are slumping, Morgan Stanley believes desktop search could be a "dark horse" for Google.
The optimism comes from a recent design tweak that changes how ads show up on desktop search results. Google recently removed ads on the right-hand rail (where they commanded lower cost-per-clicks) and instead added a fourth ad at the top of its search results. It might seem like a small change, but advertisers eager to get in front of internet users will have to buy higher-priced ad units to be featured there.
Morgan Stanley's Nowak estimates that the change could add 140 basis points to websites ad revenue growth. "Given Google [owned and operated] desktop search still makes up 55% of total search revenue," he said, "any acceleration can move the needle."