The artist formerly, and forever, known as Prince passed away at his home in suburban Minneapolis today (April 21). He was a singular musician, showman, songwriter. He was arguably one of the most underrated guitarists of his generation, if not all time. His style, much like another musical great that passed away earlier this year, was unparalleled, and a large part of that was his zany, custom-designed guitars. While many musicians have signature custom guitars, few actually design entirely new, original designs like Prince did.
Quartz compiled some of his greatest guitar hits below, both originals and Prince's variations on the classics:
Prince playing his custom-built purple guitar, shaped like the symbol he once replaced his name with, at the 2006 Super Bowl.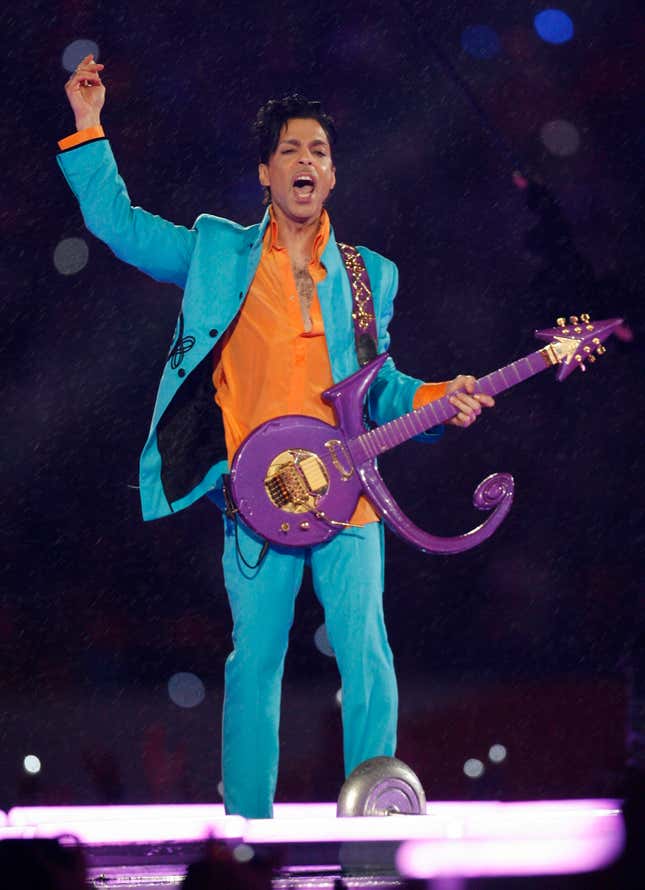 That performance also included some other Prince favorites, as well as one of the most memorable renditions of his hit song, "Purple Rain," as the rain fell over the field in Miami.
Including this sparkly, rain-drenched Fender Telecaster.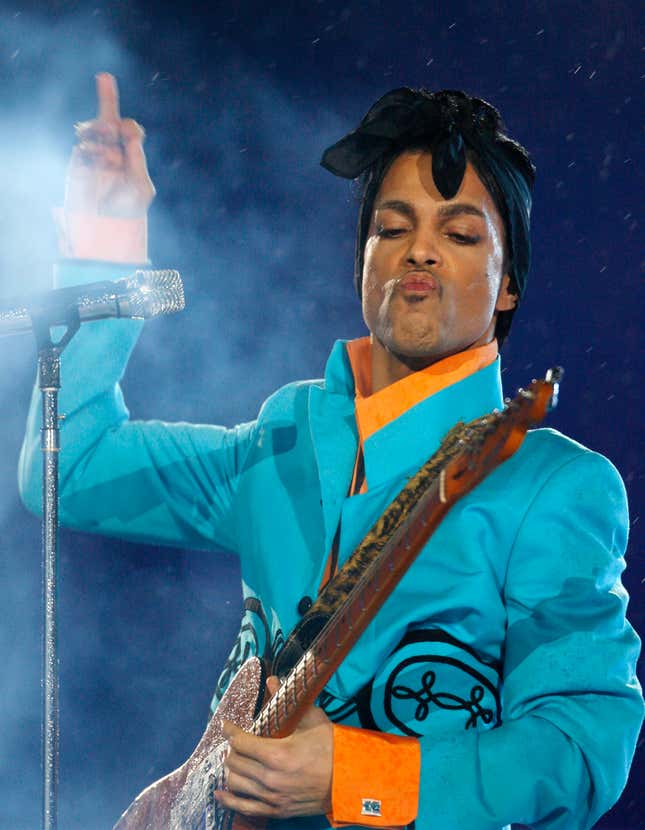 Prince used this custom cutaway guitar in the 1980s, including this performance in Paris in 1987.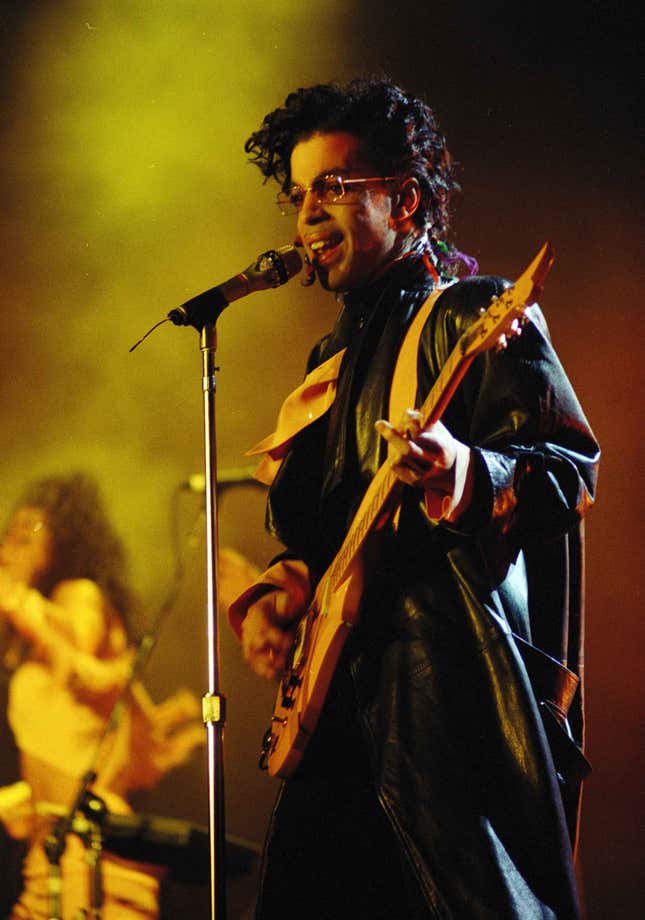 Prince had a penchant for odd-shaped guitars with extreme cut-away sections, including this one, called the Cloud Guitar, that now resides in the Smithsonian Museum. They were originally designed by a luthier in Minnesota specially for Prince, and four different variations, in a range of colors, appeared throughout his career.
These guitars featured prominently in Prince's first film, Purple Rain, released in 1984.
And one was even on the cover of the single from the eponymous album, Purple Rain: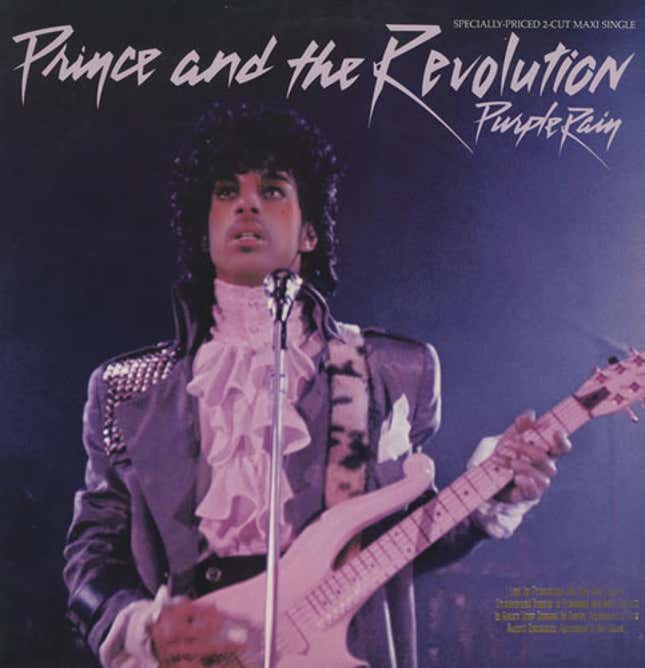 They've since been reproduced, and then discontinued, by the guitar company Schecter.
Then there was this crazy guitar, called the Model C, that was made for Prince by the German luthier, Auerswald Instruments, that has no tuning knobs and looks like the physical embodiment of the 1980s. It had to be tuned by tiny dials at the bridge of the guitar, according to the blog, Unique Guitar.
And even when he was using standard guitar designs, Prince tended toward a flair for the flamboyant, including this Fender Telecaster design with a leopard-print pick guard that he used for much of his career.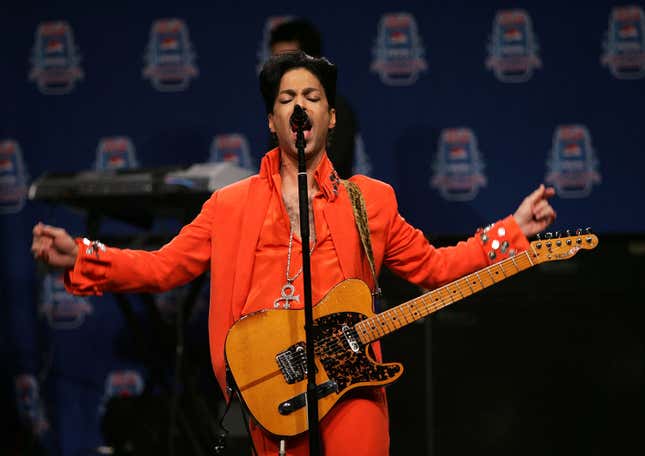 He also used it for arguably one of the greatest guitar solos ever recorded, as part of a supergroup performing The Beatles' "While My Guitar Gently Weeps" at the 2004 Rock & Roll Hall of Fame induction concert:
Prince in Montreal in 2015, playing a Vox 77 semi-hollow electric guitar.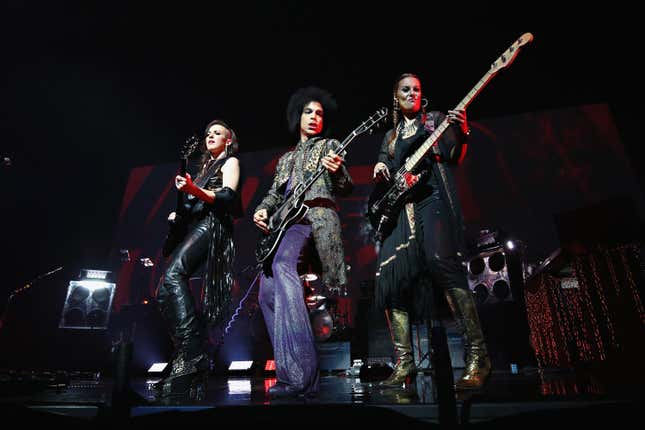 To remember the pop genius, watch Prince play through some of the greatest guitars, and songs, at the full Super Bowl XLI half-time show: