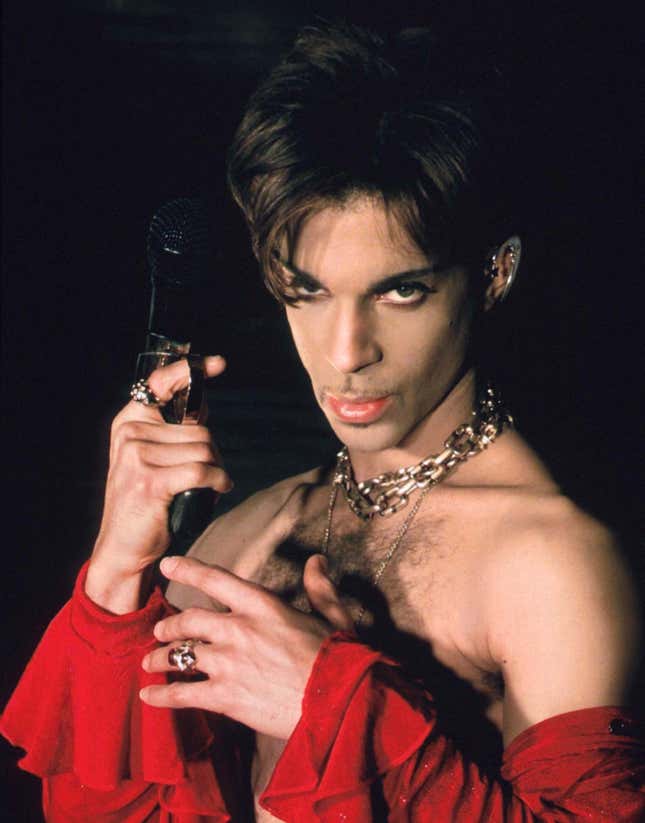 The refrain on social media is, sadly, once again deafening. That Prince is dead, at the all too young age of 57, is almost beyond comprehension. He was so many things—peerless songwriter, gender-bending performer, genre-defying guitarist, actor, activist and crusader for artists' rights and against digital media—but he was all too mortal, as well.
As pop star Katy Perry tweeted this afternoon:
The first time I saw Prince was at the Providence Civic Center, on the tour supporting his breakout album 1999. His voice was magnificent, his guitar playing loud and raunchy, and his performance was unlike anything I'd seen before. Like The Clash in their heyday, it was incendiary.
By the end of the show, Prince was stripped down to a leopard thong, wailing away on his guitar at the lip of the stage. To say that the mixed-race and mixed-age audience was transfixed is indeed an understatement.
I gobbled up his first two albums, but within just a few months, Prince was everywhere. MTV played his videos non-stop. By the time the album and movie Purple Rain—which seemed designed for the era, without ever feeling calculated—came out, it was as though Prince was a part of the world that would never go away.
Of course, as all true artists do, Prince defied convention. He challenged himself and his audience with the '60s pop of Around The World In A Day and the much-maligned, but actually fantastic, film Under the Cherry Moon (and its accompanying soundtrack Parade). He released Lovesexy, a CD that had no breaks and was presented as one long song, and the glorious, underground Black Album. He was revered, and collected numerous awards along the way, but it often seemed that much of his audience just wanted him to make Purple Rain II.
And then he delivered his masterpiece, Sign O' The Times. Full of social commentary, raunch, and stunning songwriting and performances, it was an artistic statement that shamed his peers.
I followed Prince through thick and thin, when many of the fans that had made him a superstar had abandoned him out of frustration that he seemed to be pleasing himself rather than them. And I recall standing in a record shop in Oxford, England, when the song "Gett Off," which had only just been released, came on, blaring, over the store's sound system. I was transfixed. It was new and fresh and sounded like no one else. It could only have been Prince. I can still remember the excitement of buying it and taking it home and driving my neighbors mad that weekend.
I saw him several more times live—most thrillingly, at an after hours club show in New York City in the '90s—and collected bootlegs of his concerts perhaps more than his new releases. But then I saw him join Tom Petty, Jeff Lynne, Dhani Harrison, Steve Winwood and others in inducting George Harrison as a solo artist into the Rock and Roll Hall of Fame, and it reminded me just how lucky we were to have Prince around to show us how it's done.
With one, searing solo on Harrison's "While My Guitar Gently Weeps," Prince seamlessly incorporated rock, soul, funk, R&B, psychedelia, blues, and just about every other genre under the sun, not to mention a beautiful melody, into a performance that leaves even his fellow Hall of Famers agape. It's listed as the "greatest guitar solo ever" on YouTube, and it just might be. Harrison's influence is in there, but so is Jimi Hendrix's, and BB King's, and Robert Johnson's, too. And when Prince leans back into the audience, and his minder catches him and pushes him back on stage, just like they did on the chitlin' circuit way back when, the shock and joy on Dhani Harrison's face says it all.
So Prince, who, like David Bowie, made weirdness cool, and was a massively popular artist and renowned ladies man even while he sent mixed signals about his gender association and sexual preferences to large swaths of his white, middle-class audience, is gone. In an age where pop stars make the same music over and over, and shock seemingly just to shock, Prince will be sorely missed.
I haven't read the tributes that are no doubt pouring in. I'll get to them, I'm sure. But for right now, I'm going to pull out those old, worn albums that have served me so well, and remember an artist who always did it his own way, no matter the cost or consequences, and who leaves this world a little less weird and a little less joyful.