Apple users in China can no longer download books and movies from the company's massive online collection, after Beijing's top media regulator reportedly called for iBooks and iTunes movie store to be shuttered.
While the situation isn't likely to have much impact on Apple's bottom line right now, it could be a chilling sign of worsening relations between Apple and the government in its fastest-growing region.
At present, when Chinese users open iBooks from their iPhone, they receive a message that states "The iBooks store can not be used," but gives no other information. iTunes movie store users get a similar message.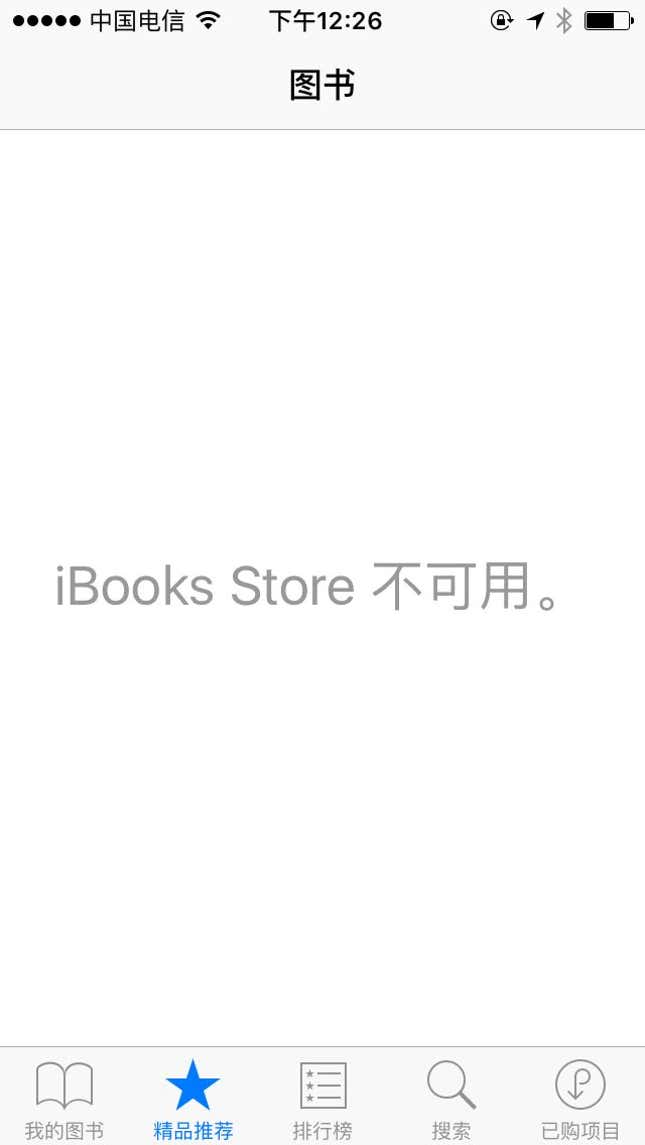 Informal tests show that the suspension only affects users with Apple accounts registered in China. Accounts bound to other countries can still access the stores from within China's borders, one person with an Apple account in China told Quartz. Apple Music, however, is still accessible.
"We hope to make books and movies available again to our customers in China as soon as possible," an Apple spokeswoman said in an emailed statement, but did not provide any more information about situation. Apple doesn't disclose its total number of customers in China, but they're estimated to be in the tens of millions.
Access to books and movies has been blocked in China since last week, The New York Times reported, citing two anonymous sources, after online media regulator the State Administration of Press, Publication, Radio, Film and Television "demanded the closings." Foreign and domestic firms are required to be licensed by the regulator, known as SARFT, to stream media in China, and Apple had indeed obtained approval, the paper reports.
The shutdown is likely to have a marginal impact on Apple's bottom line. The company derives only 7.5 percent of its revenue from "services" like app installs and media sales, with the majority from device sales, and specifically the iPhone. But the longer term implications could be more serious.
Apple's revenues in greater China (which includes Hong Kong in Taiwan) grew 14% in the first quarter of 2016 from the year before, the strongest surge anywhere, as wealthy Chinese snapped up iPhones.
But as China's smartphone market matures rapidly, a slowdown in device sales becomes increasingly likely. There, as in other countries, the company must eventually rely more on selling media and services. Before now, the signs were good—Apple's app store sales doubled between 2015 and 2016 in China, and it introduced Apple Pay to China back in February.
The Chinese government has been steadily calling for stricter controls on the internet, both in regards to what information is available and who gets access to China's approximately 700 million online citizens. Last February SARFT issued a set of regulations which, if enforced strictly, would severely limit a foreign company's ability to engage in "online publishing."
If SARFT or other authorities continue to crack down on content and apps foreign companies can sell, China might prove to be a less lucrative market than it was before—and a far more frustrating one with regard to regulations.