Beyoncé's Lemonade is an album full of resentment towards an unfaithful husband, who is assumed to be the singer's spouse, Jay Z. But that anger could be transformed into dollar signs for the rapper.
On Saturday evening,  the album and its accompanying video went live on Tidal, the Spotify-esque music streaming app that's owned by Jay Z and a group of artists including Alicia Keys, Jack White, and Beyoncé herself. Users could either stream the record by signing up for Tidal, or pay $17.99 to download it for offline listening.
Almost immediately, Tidal downloads surged. Lemonade went live at 10PM EST. According to App Annie (registration required), at 1AM EST, Tidal was ranked the 202nd most popular free iOS app in the United States. By 2AM EST, its ranking hit 24. It currently is the third most-downloaded free app in the US, behind only Snapchat and viral game Slither.io.
This isn't the first time that a single record release has catapulted Tidal to the top of the app store rankings. As the chart below shows, Tidal was the most-downloaded free app in mid-February, when Kanye West unveiled his new album Life of Pablo as a Tidal-only exclusive. Within ten days of its release, users streamed the record 250 million times—meaning the record received 20 million more plays than Jay Z's top song on Spotify, "Ni**as in Paris."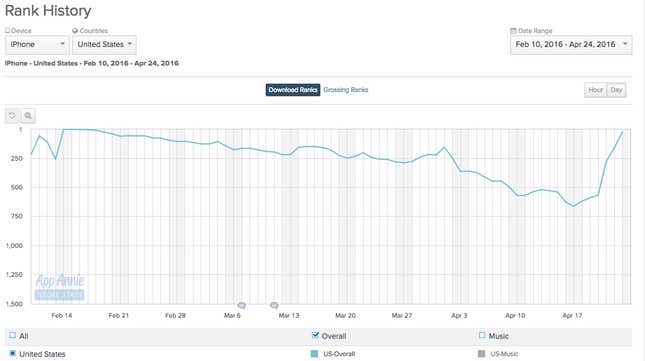 This short term popularity doesn't necessarily spell long-term success for Tidal, however. The service offers a month-long free trial but no free, ad-supported service like rival Spotify, so it's easy for users to abandon it after 30 days. It is still far behind Spotify in popularity—the Stockholm-based music streamer has 30 million paying subscribers, compared to Tidal's 3 million.
Kanye West promised that Life of Pablo would never hit the iTunes Store—but one month later, it was released on Apple Music, and Tidal's popularity once again sunk. Lemonade is rumored to hit the iTunes Music Store on April 25—if it does, expect users to switch over from Tidal to Apple in droves.