Rachael Ray has had her share of detractors during her long TV-chef career, including fellow celebrity chef Anthony Bourdain, who once dismissed her as a smug peddler of mediocrity who teaches viewers to "aspire to nothing."
But she had not been accused of trying to wreck anyone's marriage—let alone that of a pop superstar whose fans follow her with cult-like devotion. Until yesterday, that is.
Over the weekend, after Beyoncé's hour-long album visual album, Lemonade, was released Saturday (April 23), fashion designer Rachel Roy (who is rumored to have had an affair with the pop star's husband, Jay Z) hinted on Instagram that she might be the other woman alluded to in Lemonade—the object of the superstar's scorn, "Becky with the good hair."
Predictably, members of the Beyhive came out swinging. But some of them mistakenly took aim at Ray, not Roy (who has since made her Instagram feed private), cursing out the chef next to her "crazy tasty Texas style slow cooked pulled beef chili Joes."
And heaping shame upon her alongside her "Tournedos Pizzaiola":
Invective directed at Ray included calling her a "Pumpernickel bread toast husband stealer"; warning that "You can cook, but you can't hide"; and, worst of all perhaps, promising recipe boycotts: "Oh I loved hot chicken fajitas but I will never make them again after what you did you did to the Queen."
rachaelrayI'm making a delicious steak sandwich: Tournedos Pizzaiola served on warm and crusty ciabatta bread!

thebrandonsousaI bet that's exactly what you were whipping up in jayzs kitchen while Beyoncé was out performing.
Ray, who renewed her vows with husband John Cusimano last October at a castle in Tuscany, appears by all accounts to be happily married. At this point, many of the insults being lobbed at her on social media seem like they're in jest.
maryshane_mcqueenThis pasta doesn't even look like Jay-Z would eat it. I'm sure Beyonce does a better job. Like, how could you?
Some warned that anyone with a variation of the name Rachel might just want to lay low for a little while:
The incident has had a silver lining for Ray—suddenly Google searches for her name shot up over the weekend: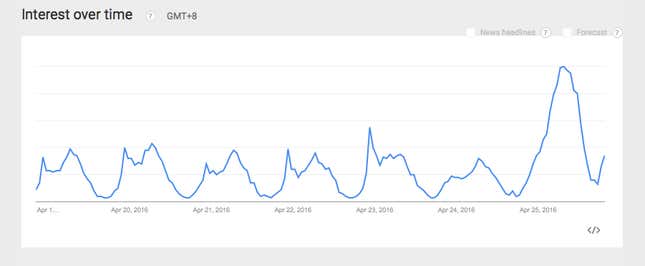 camikaneI forgot that Rachael Ray was even around but the name mix up has her trending…let me look for some new recipes 👀👀👀
Taking advantage of the publicity, her RachaelRayShow Instagram feed published a recipe for "lemon shake-up with lemonade lavender ice cubes:"