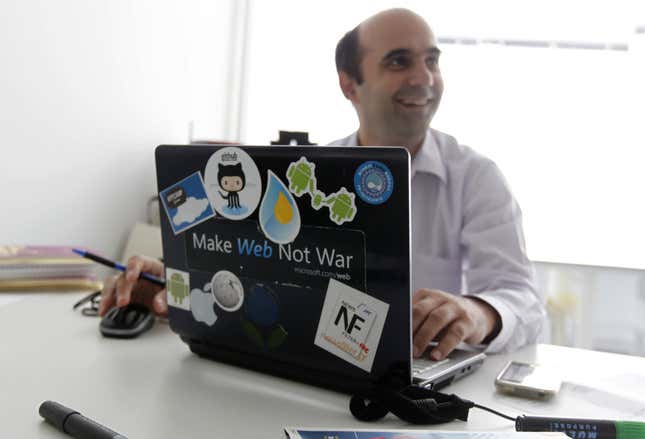 The office of Greek app-maker Taxibeat is located in a modern building, surrounded by shuttered shops and streets with cracked pavement, in the upscale Kolonaki neighborhood in Athens.
The contrast between the office and its surroundings is more than aesthetic—it's the difference between where Greece is, a low-tech economy based on tourism and agriculture, and where it could be—a smart, creative and cosmopolitan center for technology and innovation.
Taxibeat was founded in 2010 by four friends and received its first seed funding less than a year later. Within 18 months, the company was operating in five countries, six cities and had raised over one million euros in funding. Taxibeat's mission—to connect patrons with taxis using their smart phones—may be small, but its success is a symbolic victory for Greece's tech community and the country's entrepreneurs as a whole.
Paradoxically, it is the financial crisis, which has largely spurred this new entrepreneurial push.
In the past, the vast majority of twenty-somethings vied for cushy government positions that guaranteed a paycheck and a stagnant career in a government office. Now youth unemployment stands at nearly 60% despite relatively high levels of education. Two choices now remain for young people: leave Greece or create your own business.
Despite the dire situation, initiatives to grow Greece's tiny tech ecosystem are sprouting up every month. The fledgling tech scene now consists of about 200 companies, up from just a handful before the crisis, that create mostly software and apps. CoLab, a co-working space for startups founded in 2010, has had to turn away perspective coworkers for a lack of workspace despite recent expansions.
TechCrunch has been quick to recognize the country's startup potential, holding a meetup earlier this year at the elegant Benaki Museum in central Athens. Microsoft has also opened an innovation center in Athens to cultivate and acquire promising new talent.
Tech firms are optimistic about their prospects, citing the largely untapped potential of Greece's engineers and developers .
"Being a tech entrepreneur was a very lonely profession just three to four years ago," said Panos Papadopoulos, CEO of BugSense, a mobile software development app.
"Nowadays there are a ton of events and startups that are not just local clones of international startups, but they actually provide innovative services."
BugSense is now being used by 5% of all Android apps, a huge success for a company that only raised $100,000 from angel investors. It now employs 13 people in three countries with plans to expand into the Japanese market this year.
Another success story is Pinnatta, an interactive text messaging app, that has received funding from super angel funds from the US, Greece, Russia, and Taiwan after less than a year.
"Things are changing," said Pinnatta founder George Spanoudakis. "They probably should be changing at a faster pace but I think that in a couple of years from now Greece will be very powerful in startups."
There are still many impediments to success—massive ones in fact.
Greece is still a dreadful place to do business with immense bureaucratic obstacles and a culture that punishes failure and success alike. The World Bank ranks Greece 78th in the world for ease of doing business, which is last among EU countries.
Taxation is harsh (when its collected, it's collected overzealously) and incorporation laws are just now catching up to western European and American standards. Many tech startups choose to register their companies in the UK for its ease and because they think legally affiliating their business with Greece might harm funding prospects.
The shortage of investors and lack of people with real business development experience in technology are other problems.
Greece could learn something from its Mediterranean neighbor and global tech success story, Israel.
Israel's unique achievement stems from a confluence of factors, most notably its obligatory military service that gives programmers and engineers real-world experience very early on.
The draft also has an indirect way of bolstering entrepreneurialism.
"You are put into a machine that tells you what to do every minute of the day for three years," said Yaron Samid, the founder of BillGuard, an app that looks for unusual charges on credit card bills. "After that you don't want anyone to tell you what to do."
Samid says that Israel has also invested a great deal in R&D and has a legal system that doesn't deter risk-taking. The serial tech entrepreneur says that failure in Israel is not punished like in Europe but rather worn as a badge of honor.
The economic situation has now made business the least risky endeavor for the young generation who have so few employment options and who can no longer count on dwindling family savings.
But it may be years before we see a silicon οδός (road), tech startups won't save Greece in the short-run—years of corruption and extreme mismanagement have brought at least a decade of pain. For now, the country has no choice but to innovate.