If you've preordered an Oculus Rift virtual reality headset and it hasn't shown up yet, the company has a new idea for you: Cancel your order and go wait in line for one.
Facebook's Oculus Rift headset will be available at certain Best Buy electronics stores around the US on May 7, the company announced yesterday. Oculus is still in the process of slowly fulfilling its backlog of Rift preorders—which started shipping last month—and many customers waiting for their headsets have voiced frustration at how the company is dealing with the process.
Before Facebook bought Oculus for $2 billion in 2014, it was a relatively small Kickstarter project aimed at gamers wanting to experience VR videogames. But now, Oculus is telling those who want to get their rigs sooner to cancel their preorders and sign up for a spot in line at one of the Best Buys to pick one up in person. (They'll still get the added goodies that came with the preorder package, however.) That does mean, of course, that anyone—regardless of whether they've been on the waiting list for a Rift since its Kickstarter days or only heard about it yesterday—could potentially sign up to be the first to pick one up in stores.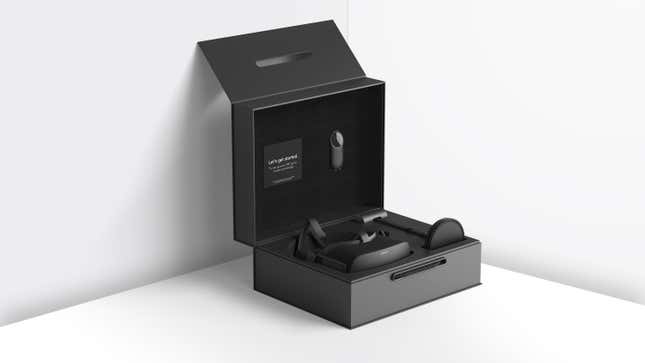 Oculus is planning on setting up demonstrations areas for anyone to try out its VR system at 48 Best Buy locations, with the aim of showing people just what it's like. Because unlike a new iPhone or a colorful wearable device, the utility of the $600 headset (that requires a relatively new, thousand-dollar PC to run) is not something that's easily understandable from advertisements or articles like this one. Like those old ads for DVDs that used to run at the start of VHS rental tapes that were no help at all, you really need to experience VR in person to get what all the fuss is about. Oculus has set up a site where prospective customers can book some time to try out the Rift at Best Buy stores, similar to what Apple did around its Apple Watch launch.
The company is also planning on having a few Rift headsets available for purchase through Amazon and Microsoft's store, starting at 12pm ET on Friday, according to The Verge. After the initial Best Buy rollout, Oculus plans to add more stores and locations to try out the Rift in the summer, the company said in a blog post.