Food from a pod may sound like something from an unwanted future. But a growing number of companies are selling expensive machines that prepare simple foods at home using proprietary containers, like Keurig does for coffee. The most visible example is Juicero, the much-maligned startup that raised more than $100 million to sell a $700 juicer for vegetables sent to your home.
Of course, many people love the convenience factor. Those Keurig coffee machine are in one-third of US homes. There's also a plethora of options for juice, pet food, beer, Campbell's soup and, now, tortillas.
Flatev is entering the market with a tortilla-making machine, hoping to do for the multibillion-dollar tortilla industry what Starbucks did for coffee. The company launched its Kickstarter campaign today (May 3) after raising $5 million in seed funds, with plans to begin manufacturing and shipping its product by the summer of 2017.
The company's machine uses hot metal plates to cook fresh tortillas in one minute from refrigerated dough pods that range in flavor from traditional to bacon bits. "Our value proposition is the marriage of quality and convenience," Sandro Meyer, marketing director at Flatev, said in an interview.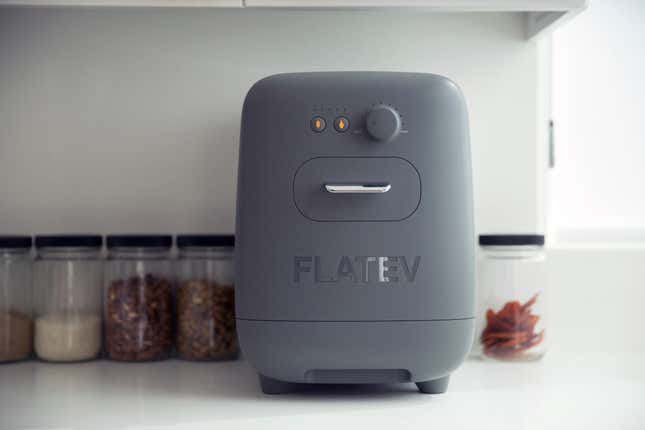 Flatev is only the beginning. Companies have flooded the "pod" industry, as venture capitalists have fallen in love with the sector in recent years. The reason is economics. The hardware business is notoriously expensive, the "double black diamond of startups," says True Ventures. Designing, testing, manufacturing, and shipping functional hardware drains budgets long before a startup can grow, as Kickstarter campaigns have learned the hard way.
Yet food pods change this math, says venture capital firm Bolt, which has invested in a number of such companies. By creating a recurring revenue stream—the pods—hardware companies suddenly look a lot like software businesses. When the business is working well, selling machines is usually a small fraction of total revenue because customers keep coming back for those high margin (as much as 100%) pods.
Keurig has been the poster child for this. It sells a $100 machine to customers who then buy a regular stream of plastic one-serving pods. The company earned more than 80% of its revenue ($4.5 billion) from coffee sales in 2015. This model is now the template for companies making products ranging from wine, cocktails, soup, and pet food, to soda, nutrients, and beer.
Flatev, which will sell its machine for $399 and pods for about 75 cents a piece, says its business model is equally lucrative. It plans to expand into other baked goods as well: Indian rotis, Middle-Eastern Pita, and even cookies. "We want to activate as many machines as possible because what we're really interested in is selling the most pods per person," said Meyer.
Food companies have scrambled to keep up as smaller companies have eaten away at their customer base. The share of consumer-packaged-goods sales controlled by the 20 largest brands has declined steadily since 1980, reports research firm Mintel. Campbell Soup, an investor in Juicero, runs its own venture fund, Acre Venture Partners, to invest in food startups threatening its business. General Mills, Unilever, and Procter & Gamble have followed suit.
But obstacles are legion. First is complexity. A partner at GV, formerly Google Ventures, called Juicero the "most complicated business that I've ever funded" in the New York Times. Food hardware businesses require a mastery of software, consumer electronics, produce, packaging, logistics and, of course, the discriminating tastes of customers. Juicero alone holds 140 patents, and runs a 111,000-square-foot facility to wash and slice fruits and vegetables in Los Angeles to deliver on its promise of "farm to glass in 72 hours."
There is also a growing risk of a backlash against "proprietary" pods. Keurig released a new version of its machine in 2014 to exclude third-party and refillable coffee pods, alienating a large share of their customers. Sales fell 12% the first full quarter the new machine was sold. The environmental waste from mountains of disposable pods has also dogged the industry. Efforts to create recyclable or biodegradable pods still appear years away from widespread adoption fueling a backlash. Keurig's stock plunged 32% in 2015, prompting a buyout by the JAB Holding Company.
But Flatev's Meyer sees a future where single-serving food becomes synonymous with wholesome food. Prices will come down as the pods are refined and the market grows, he says. Customers will come to expect fresh, perfectly baked bread and other foods similar to how Starbucks first raised the standard for coffee. "We sell a machine to a person, and we sell them a lifestyle with it," he says.