Tokyo
SoftBank, a Japanese telecom company that got into robotics a few years ago, has sold more than 10,000 of its Pepper robots. That's not bad considering it started offering them last June and makes only a thousand a month. Companies in Japan use the child-sized, humanoid robot primarily as a novel way to interact with customers.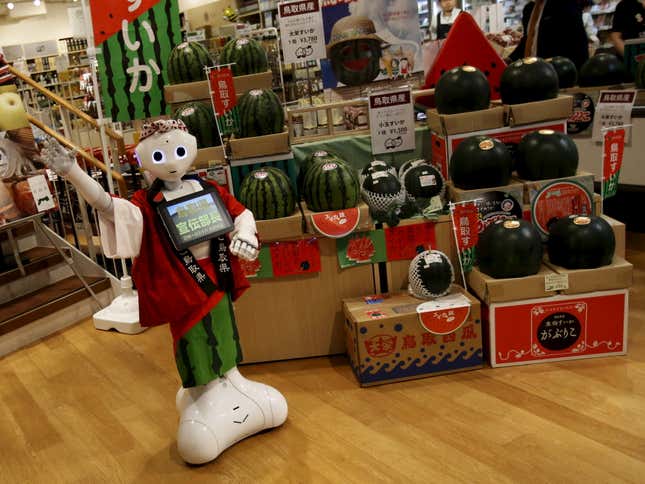 The Pepper, which can be leased for $550 per month, is now a semi-common site in restaurants, dentist offices, and even bathhouses in Tokyo and Osaka. Patrons who walk by trigger motion sensors in the robot, which then wakes up to offer greetings, or explain the use its touch screen, which can help with ordering food or logging in for an appointment.
SoftBank CEO Masayoshi Son boasted in February that the Pepper "sold out in just one minute for seven consecutive months. Many more companies than expected want to introduce Peppers into their business."
The question now is, does the Pepper represent Japan's bright robotics future—or its history of crashed fads?
Unlike manufacturing robots—the kind Toyota and Sony use to automate much of their assembly lines—service robots need artificial intelligence (AI) to navigate real-world variables and realize their potential. While Japan excels at making high-tech physical goods, it doesn't stand out in software or AI—unlike, say, Google parent Alphabet, whose AI program AlphaGo recently beat top players of Go, a complex board game much beloved in Japan.
The government worries that foreign companies like Alphabet and IBM will lead the charge in AI.
"Should Japan lag behind in terms of ideas about robot development or business models… [the country] will draw more concerns over the situation in Japan where craftsmanship enjoys a victory but business suffers a defeat," officials at Japan's Ministry of Economics, Trade, and Industry (METI) said in a 90-page report (pdf) on the country's robotics strategy published last October.
In February METI unveiled a "Robots for Everyone" project. It envisions a future where robots move warehouse pallets, help teach foreign languages, and even wait tables. The Japanese government to that end is offering 230 million yen ($2.2 million) for funding ideas on robots that can be used in everyday life.
The agency forecasts the overall usage of service robots in Japan will double by 2020, to 2% of overall economic productivity. That, it says, will help ease an oncoming labor shortage brought about by an aging population and aversion to immigrant workers.
"Businesses such as wholesale, retail, hotels, and restaurants are considered to potentially have a lot of need for robots, because these businesses involve monotonous work and are suffering from a labor shortage," METI said in its October report.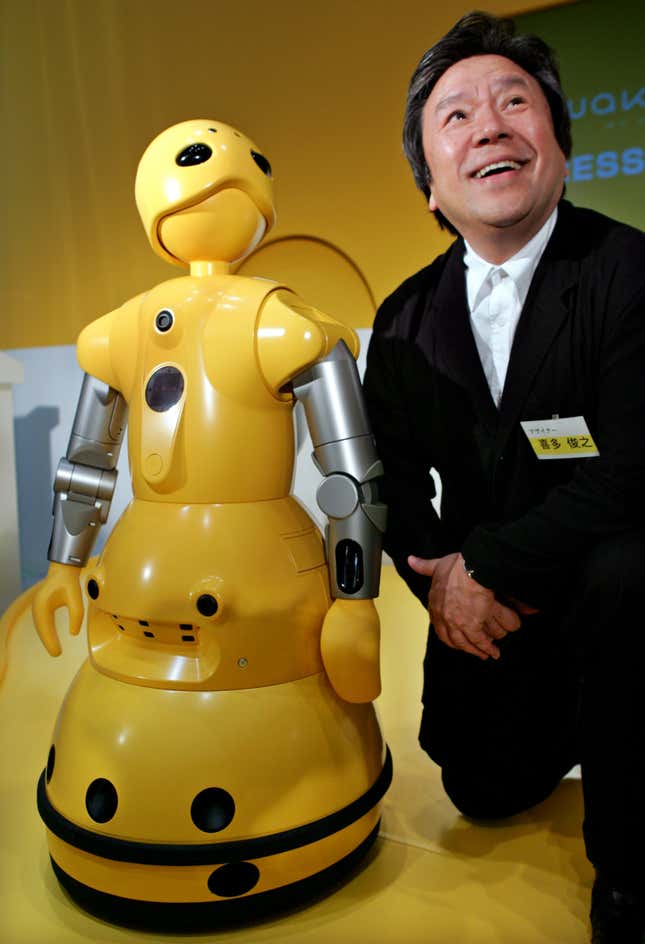 While Pepper might thrive in such a future, it could also suffer the fate of a predecessor: Wakamaru, a helper robot Mitsubishi Heavy Industries introduced in 2005.  
Mitsubishi initially hoped to sell 100 Wakamarus. The robots would act as guides and receptionists at homes and offices, able to tap into the internet to read off weather reports and emails.
Mitsubishi never made another run of Wakamarus. By 2007 they were only available for rent and largely forgotten.
"I probably shouldn't show you this," said Yoshio Matsumoto, a service-robots researcher at the National Institute of Advanced Industrial Science and Technology in Tokyo. The photo that pops up on his computer shows dejected-looking Wakamarus crowded in a cage on the grounds of Osaka University, which helped develop them. A sign shows these once-hot robots are now on their way to the rubbish heap.  
The Pepper is, of course, more evolved, both in its technology and business model. Owners can download apps for the robot from an online store SoftBank opened earlier this year. Developers offer apps to make Pepper do certain things, like a particular dance or way of greeting customers. But it's still a long ways from AI.
Pepper's future probably looks as bleak as Wakamaru's, according to Matsumoto. That's because despite all the press about them helping humans, these robots' real jobs are still more about public relations.
"These robots are just tools, not autonomous and not intelligent," he said. "I don't think they can be used in a practical sense. If you want to replace a human secretary or a human receptionist, you definitely need more work on AI."
Besides, he adds, "I don't really think that the number of people for those jobs are in short supply."
Instead, he believes, the future of Japanese robotics may be in a less glamorous field: nursing care. He points to the Reysone, a "robotic bed" from Panasonic. Introduced in June 2014, the Reysone transforms into a wheelchair and back into a bed again for nursing home occupants. Panasonic hopes to follow it up with another robotic device that will help the elderly visit the toilet. 
Another use for humanoid robots could be helping autistic children, Matsumoto said. Teachers or counsellors sitting off to the side use a computer to feed lines to these so-called communication robots, basically high-tech ventriloquist dummies. Autistic students seem to prefer talking to robots who won't judge them, Matsumoto noted.
"Medical doctors feel that robots have an application," he said, whereas "using robots in restaurants doesn't have much use."
At the Ganeza Indian eatery in Tokyo's upscale Higashi-Azabu neighborhood, Matsumoto's prediction seems to be playing out. A Pepper stands between the front door and the cash register, its head down and eyes dark in standby mode. It suddenly comes to life as two women approach to pay the bill and chirps a cheerful "Irashaimase!" (A greeting meant for those entering, not leaving, an establishment.)
One of the women laughs in surprise. She bows to Pepper and then hands over her money—to the human behind the register.
"Customers don't really use this thing," the waiter says of the robot.