Abercrombie & Fitch has been going through some major remodeling. After years of flagging sales, in 2014 it ousted CEO Mike Jeffries, the man who built the brand into a retail force known for collegiate prep. Last year, the clothing company hired a new designer and turned away from its old marketing track, trading glamour shots of abs and oversexed summer-camp fantasies for a more sophisticated, fully clothed look.
The new image comes just at the right time for Abercrombie's international expansion plans, which focus on the Middle East. After opening its first Abercrombie stores in the region in 2015, including two in conservative Kuwait and one in Dubai, it just announced plans to further grow its footprint. In the next year or so, the brand will open stores in Qatar, Bahrain, Oman, and Saudi Arabia.
The Middle East is an unexpected market for a brand that has built its image on sex and a blond-haired, blue-eyed ideal. In June 2015, the US Supreme Court even ruled against Abercrombie for refusing to hire a Muslim woman whose hijab violated the company's "look policy." But apparently, regional sales have been strong so far.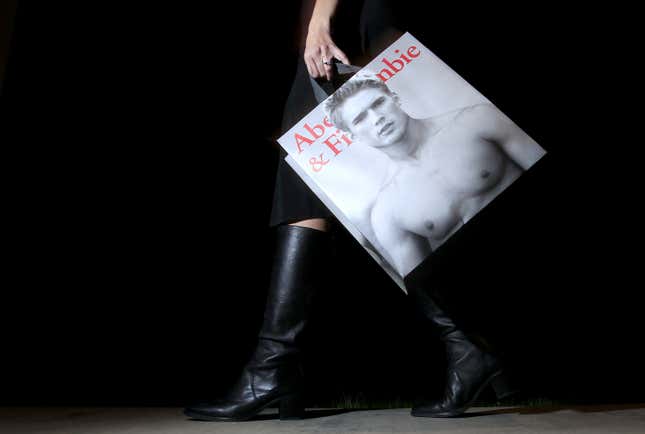 "We have seen significant demand within the last few years in the UAE and Kuwait and we look forward to helping Abercrombie & Fitch Co. grow in this market," said Rajiv Suri, CEO of Majid Al Futtaim Fashion, Abercrombie's expansion partner in the Middle East, in a press release.
It's certainly an attractive opportunity. While there are early indications that Abercrombie's turnaround is working—in March, it announced its best quarterly results since 2012—retail experts still believe it has too many stores in the US. But overseas, the brand has room to grow.
According to research firm Trefis Team, the company does nearly 36% of its sales outside the US. In terms of sales per square foot, its international stores are far more productive, generating close to $770 per square foot, versus about $420 in the US. But in Europe, Abercrombie's biggest overseas market, over-aggressive expansion has seen sales drop. The best opportunities lie elsewhere, specifically Asia and the Middle East, Trefis Team concluded.
Abercrombie seems aware that it will need cultural sensitivity needed to do more business abroad. Including its subsidiary label Hollister, the company has opened eight stores in the Middle East since 2013.