The glory of a lost Syrian temple from 32 AD, precious Sumerian statues from a looted museum, a prayer service given by a beloved priest.
Online stock photo agency Shutterstock announced on April 27 its plans to release about 45,000 video clips depicting unique or hard-to-access places and people in the Middle East, North Africa and Asia. Included in the collection is archival footage of ancient buildings and heritage sites that have been since destroyed or looted by the militant group ISIL.
Video clips reveal precious artifacts and vessels from National Museum of Iraq before it was looted in 2003. Others pan over the Temple of Bel in Palmyra, Syria, before it was reduced to rubble in August 2015.
Marked for non-commercial purposes is footage showing Italian Jesuit priest Father Paolo Dall'Oglio, who has been helping resurrect a 6th century monastery in Syria and disappeared after negotiating with Kurdish militia for the release of hostages two years ago.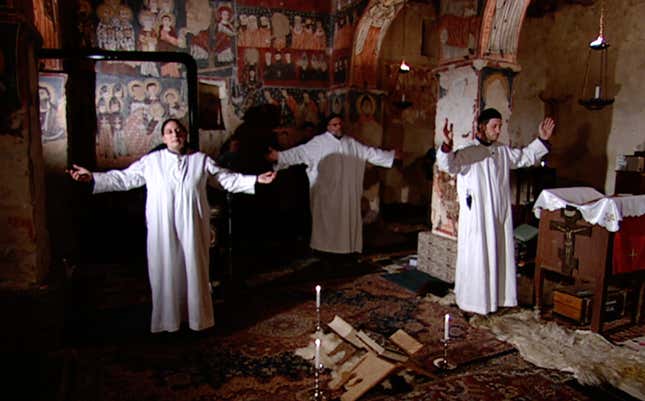 Through a five-year licensing deal with the Beirut-based video production company Firehorse ARC, these vignettes depicting daily life, architecture, and current affairs make up more than 2,000 hours of video available for filmmakers and news agencies around the world.
Firehorse ARC's co-founders Najat Rizk and Mouna Mounayer explain to Quartz that partnering with a global image distributor like Shutterstock—which has some 80 million images and four million video clips from 100,000 contributors—was important because it would allow their content to reach the rest of the world.
"It would allow us to show to rest of the world the richness of our society, our culture and our heritage," says Rizk, a veteran TV producer who serves as Firehorse's CEO. "Our company motto from the beginning has always been 'for Arabs, by Arabs," adds Mounayer who oversees their video archive.
Firehorse ARC's clips are available for $19–$79 on Shutterstock depending on resolution. They are the product of 17 years shooting what Rizk describes as "hard core" documentaries in the Middle East.
"There's a strong demand for "authentic" or real footage," explains Tom Spota, Shutterstock's director of video acquisition to Quartz. "The importance of what [Firehorse] ARC has captured on film, before and during the current changes taking place in the Middle East, will stand as a powerful record of everyday life and also lost treasures."