Once it had a deal lifting sanctions on its oil industry, Iran vowed to put an additional 1 million barrels of oil a day on the global market within a year. As recently as a month ago, most leading analysts said that was hubris, and that it would be lucky to achieve half of that.
But, as the global market continues to groan under an enormous oil glut—it's shrinking, yes, but remains sizable—the latest production figures suggest that Tehran is well on its way to meeting its 2016 objective (as Quartz had forecast it would).
In a report released today, the International Energy Agency said that Iran produced 3.56 million barrels of oil a day in April, some 680,000 barrels more than it did a year ago. That puts Iran back to its pre-sanctions production level from 2011, and counterbalances supply disruptions from the fire in Canada's oil sands, and the shutdown of a big oil pipeline in Nigeria.
Sanctions were lifted in January after world powers reached a deal with Iran that pushes back its capacity to produce nuclear weapons. Since then, Iran's oil exports have also jumped, surging by 600,000 barrels a day in April alone, to 2 million, the IEA said.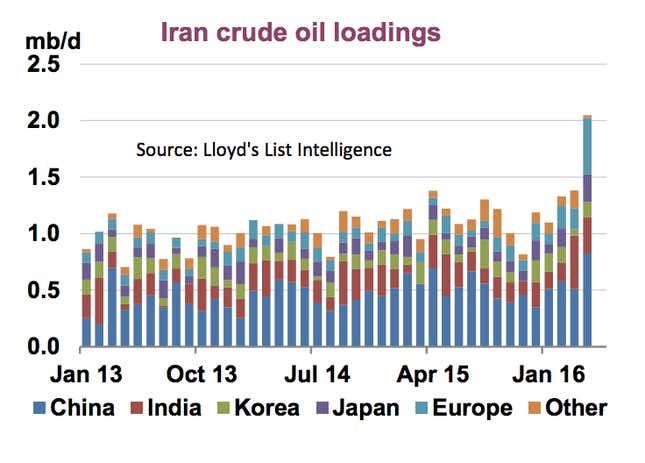 Oil prices are climbing—Brent has now gone over $48 a barrel—but they would probably be much higher were it not for Iran's surging supply.