This item has been corrected.
Omar Imam is a Syrian photographer. He has worked in Damascus since 2003, and fled the country in 2012. His work since then has been focused on portraying refugees from a too often forgotten angle—as well-rounded humans.
It's all too easy to think of refugees as numbers, as sufferers, but by doing so we erase their many facets. Imam devotes his work—dark, surreal portraits, often inside refugee camps—to highlighting that disconnect. His are pictures about being a refugee, but at the same time convey love, annoyance, humor, and mental health. In them, we see myriad characters: a bitter woman who was left by her husband, a man whose wife collects the family's aid joking that his testicles are in danger, a couple standing inside a carton to cope with a fear of open spaces.
Away from the action of emergency, the subjects of Imam's series (Love, Life Refugees) are portrayed in a still atmosphere that feels straight out of a Fellini movie (in a nod to the master's 8 and 1/2, a short film Imam did on the subject is titled 9 and 1/2). The compositions are drenched in surreality: In a nondescript camp, recognizable by the humanitarian agencies' white tents, a magician enchants his blind wife. A woman, sitting at a table set with one broken dish, is served a plate of grass. A man on a wheelchair is surrounded by balloons, to which are attached the tools that could "fix" him.
"The people I met are in the worst possible conditions, but they have the desire to continue being human," writes Imam, a grantee of the Arab Documentary Photography Program.
The pictures are captioned with quotes from the people portrayed in them, which only drive home the horror ("There was only grass. I couldn't pass it through my throat, but I forced myself to swallow it in front of the children so they would accept it as food," reads one) but also refugees' desire to live, not just survive.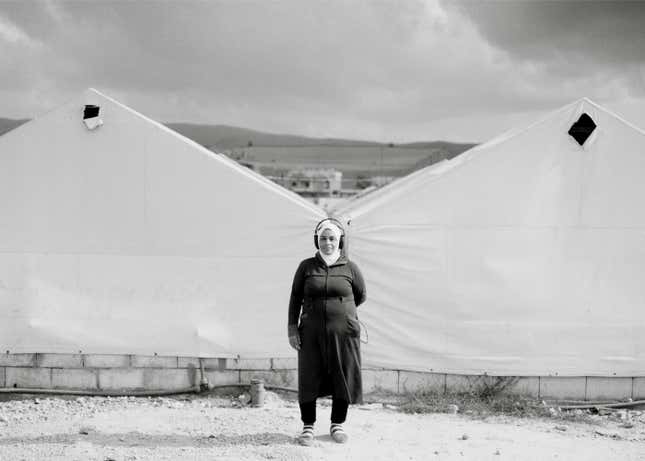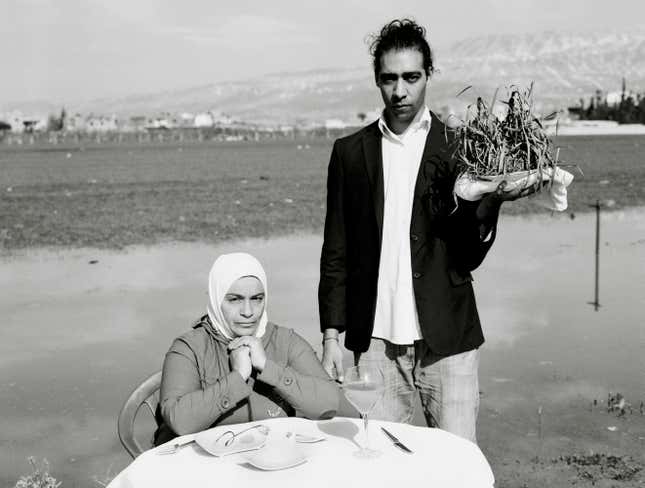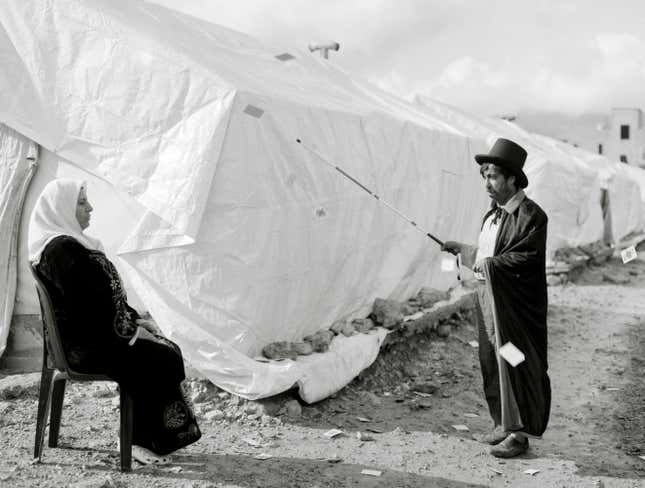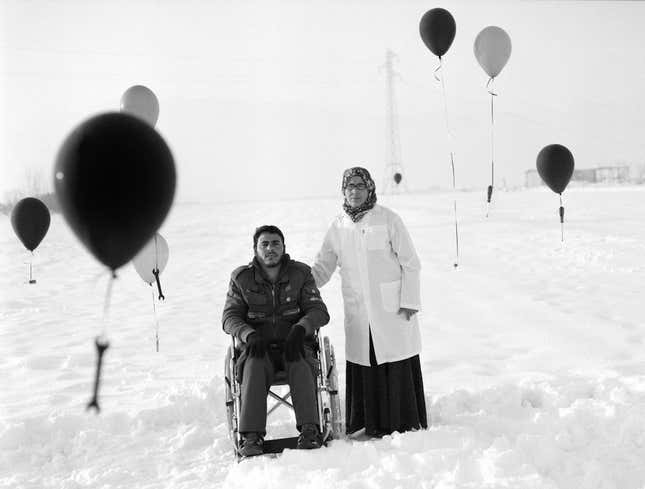 Correction: Omar Imam is not a pseudonym.