A message of female empowerment is at the core of Ivy Park, Beyoncé's new clothing line. "It's really the essence: to celebrate every woman and the body she's in while always striving to be better," the singer said in her recent cover story for Elle magazine.
But a report by British tabloid The Sun says the line is being made at least in part by young women who earn barely enough to survive and work in sweatshop conditions. Ivy Park has not outright denied the allegations, though it says it has a "rigorous ethical trading programme." But the clothes are reportedly being made a factory in Katunayake, Sri Lanka, a country with notoriously poor labor conditions for garment workers that has recently been at the center of other abuse claims.
The paper interviewed women who described conditions such as living in cramped boarding houses, working for 60 hours a week, and making just £4.30 ($6.19) a day. One 22-year-old sewing machine operator said she works nearly 10 hours a day with a 30-minute lunch break, and has to work Saturdays and overtime as well. She earns no sick pay, and said she struggles to survive on the 18,500 rupees ($126) she earns per month.
She moved to the city with her sister from a village 200 miles away where their father couldn't afford to feed them. They share a small room in a 100-room boarding house that only recently had a shower installed, and their landlord raised their rent to pay for it. Before that, they washed in a communal well. "All we do is work, sleep, work, sleep," she said.
A 40-year-old woman who has worked at the factory for 11 years lives under similar conditions and earns slightly more—21,000 rupees ($143) per month—though that's still not enough to put away savings, she says. "I have worked here many years and my money is a bit more now," she told the paper. "I have to work many hours overtime to pay for everything and there is no money left afterwards."
Technically, nothing about the situation is illegal. The workers earn slightly more than the country's minimum wage. But Sri Lanka has one of the lowest minimum wages in the world for garment workers, less than notoriously cheap Bangladesh, according to data from the International Labour Organization (pdf).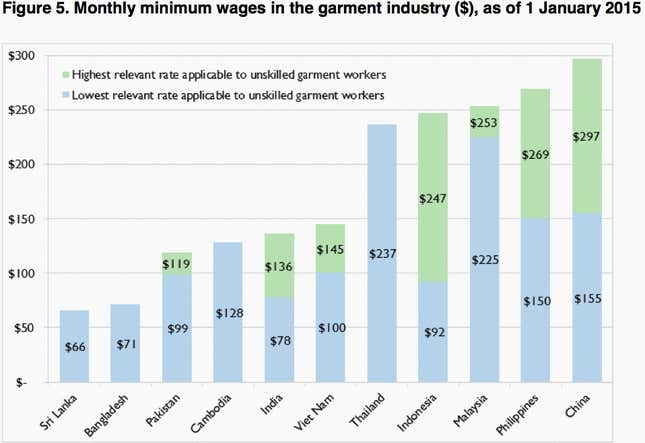 Rights groups point out that a minimum wage isn't the same as one that provides a decent standard of living. Labour Behind the Label, a workers' rights group, recently slammed British retailer Marks & Spencer, whose contract factories in Sri Lanka were paying workers 13,500 rupees ($92) per month. The group says a living wage would be more like 33,000 rupees ($225) per month.
The boarding houses described in The Sun's report have also come under scrutiny, as women are often locked in at night and their movements are restricted.
It's unclear whether Beyoncé herself had any knowledge of how her clothes were being made. To produce Ivy Park, she partnered with Philip Green, whose investment company owns Arcadia Group and several fashion retail chains, including Topshop. Arcadia's website describes it as "the UK's largest privately owned retail group." It's not the first time Green has been singled out for mistreating workers. On May 14, protesters blocked traffic in central London demanding that Green and Topshop pay the chain's cleaners a living wage.
According to The Sun, the group contracted with MAS Holdings, a huge manufacturer of lingerie and activewear, which owns the factory. Quartz has reached out to both Beyoncé and the Arcadia Group for comment and will update this post with any new information.
Arcadia told The Sun it enforces a supplier code of conduct. "When customers buy our goods they have to be sure they have been made under acceptable conditions. That means without exploiting the people who make them," it said.