Iron Man alter ego Tony Stark's phone in the newly released Marvel movie Captain America: Civil War is something you may have never heard of—a Vivo V3Max.
To Western viewers, the undistinguished Android device may stand out only for its lack of availability—it can only be purchased in China, India, and parts of Southeast Asia.
But Stark's newest device is just the latest example of Hollywood racing to earn money from China, from product placements as well as ticket sales.
Box office revenues from the Middle Kingdom are set to hit $11.7 billion by 2017, surpassing the United States. This makes targeting Chinese audiences a must for any major Hollywood studio.
Hollywood's China courtship sometimes also plays out in the film's actual narrative, and contains whiffs of political back-patting. Iron Man 3, for example, featured a scene screened only in Chinese theaters, in which Stark is saved by a team of Chinese doctors.
But Chinese product placement is becoming more common. Transformers 3, for example, was a haven for Chinese brands like Shuhua, a milk company, and Zhou Hei Ya, a chain of shops that sell duck necks (a popular snack).
It's not clear how much vivo spent for the placement. But deals can regularly cost millions or tens of millions of dollars. Heineken reportedly paid studios $45 million for placement in Skyfall, the 2012 James Bond film.
The Vivo in Captain America: Civil War marks a new benchmark for Chinese product placement in Hollywood movies. Stark is the epitome of the uber-cool gadget nerd, and his choice of phone makes for great advertising. In the past, brands that paid to stamp their name on his device have been relatively well established internationally.
Stark's phone in the very first Iron Man was an LG VX9400—a push-button device, back before touch screens were commonplace. LG shelled out once again for Iron Man 2. In that film, Stark's phone was a translucent glass slab with no real-life counterpart, but the Korean giant's logo was fixed to the screen.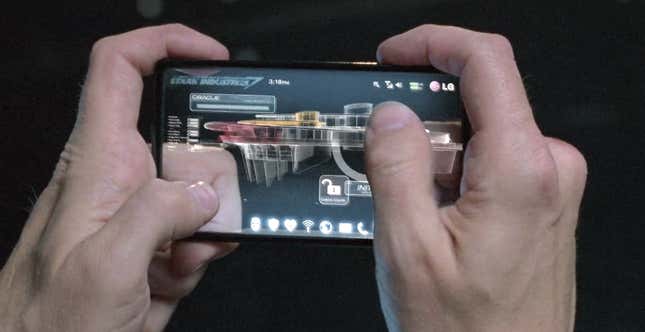 In Iron Man 3, Stark sported an Alcatel Onetouch. Alcatel is owned by Chinese electronics firm TCL, and has been selling push-button phones and other devices to consumers in the United States for years.
Vivo, however, doesn't even sell phones in the United States, and is nearly unheard of in North America and Europe. But it's one of the fastest-growing brands in China, and by extension, the world, as well as the fifth-largest smartphone brand globally in the first quarter of 2016:
Vivo, along with its "sister company" Oppo, is part of Chinese electronics conglomerate BBK. Based in Dongguan, a manufacturing hub in China's south, the company became popular in China by targeting consumers in second- and third-tier cities, investing heavily in TV and print ads, and partnering with a limited number of retailers. Billboards for Vivo are ubiquitous across China, and it's pushing into Southeast Asia too.
As Stark's latest phone shows, Vivo views Hollywood movies as just another form of advertisement. With more and more Chinese brands itching for attention, it might not be long before we see Superman sporting a Chinese-made household staple as well.