It's  official: Zika has not only arrived in the US, but hundreds of pregnant women are probably infected, with more undoubtedly to follow.
In the continental United States, 157 pregnant women have tested positive in a lab test that indicates they probably have the mosquito-borne virus, the US Centers for Disease Control and Prevention announced today, plus another 122 in US territories such as Puerto Rico.
That means at least 279 fetuses are at risk of microcephaly—a condition in which babies are born with abnormally small heads—and other abnormalities that the CDC believes are almost certainly linked to the Zika virus.
This is the first time the CDC has revealed how many pregnant women in the US are likely to be infected with Zika. After tearing through Brazil and other parts of Latin America, Zika first appeared in the US in January 2016. Since then, the CDC has reported overall Zika infection numbers, but not specifically for pregnant women.
Does that doesn't mean those babies are doomed to be born with birth defects. We don't yet know exactly how common it is for Zika to impair fetal development, but it's clearly a pretty rare occurrence. A recent study estimated that even in the area of Brazil with the highest risk of Zika, the absolute risk of having a developmentally abnormal baby is only four per 1,000 pregnancies.
A Zika infection contracted in the first trimester probably poses the gravest risk to fetuses, the researchers concluded. Another recent study (pdf) put the microcephaly risk in Bahia, the epicenter of Brazil's outbreak, at between 2 and 12 cases per 10,000 births. However, that risk was nearly 1 in 100 for pregnant women infected during the first trimester.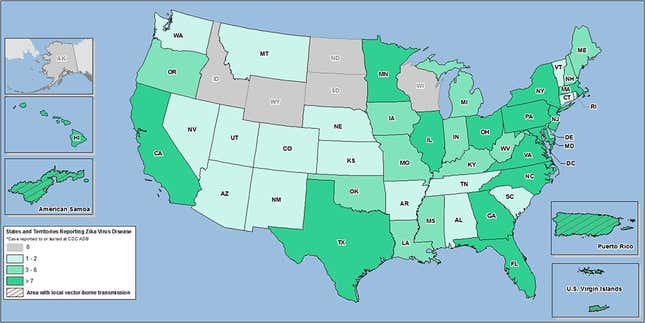 The CDC data—gathered from local medical registries in the US and Puerto Rico—reflect pregnant women who have tested positive for viral particles or an immune reaction to the virus.
The news comes a day after the US House of Representative's passing an emergency Zika funding bill. However, the House only approved $622 million in spending on curbing Zika transmission—about one-third of the $1.9 billion president Barack Obama requested.