There was an eerie hum emanating from a dimly lit room above a bakery on a side street in Durham. In the corner of the room, Lori Napoleon sat next to a series of old switchboards, draped in wires and covered in blinking red lights. She's controlling the switchboards, which are creating the droning sound that's somewhere between an ambient beat and audible corollary for a sense of foreboding doom.This is what it sounds like when you turn antique telephone switchboards into musical instruments
Napoleon is a Brooklyn-based musician and DJ who performs under the name Antenes. She brought her switchboard installation, called The Exchange, to Moogfest, a four-day music and technology festival in Durham inspired by Bob Moog, the founder of the Moog synthesizer company. Napoleon told Quartz that she was surprised that no one had ever thought to create a synthesizer out of old telephone switchboards, given how structurally similar the two devices are.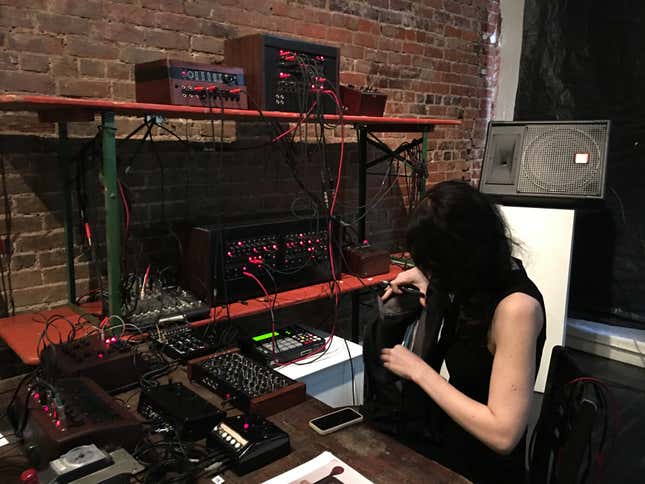 Manually operated telephone switchboards used to connect phone callers to the people they wanted to speak to. A switchboard operator would use a cable to connect the incoming call to the extension or phone number the caller wanted to speak to. In a synthesizer, cables are used to patch together different functions, or modules, that a synthesizer has.
Napoleon said she was first inspired by the idea to use old switchboards, when she was visiting a lighthouse in Michigan, which had the town's old switchboard on display. She noticed the similarity between the two, and became fascinated by the concept of using old pieces of communication tools to make modern music.
"To me I just felt called to do this as an art project, because I had been painting and drawing and DJing," Napoleon said. "I'd been in the art world and the music world, and I had the idea that making instruments was a great combination."
Napoleon built multiple sequencers—electronic devices that can save and play back musical notes in a desired order—and looping devices out of the old technology she'd found in basements and museums around the US. The switchboards and other devices she's harvested were used between the 1920s and 1960s. Her constructions have also affected the way she creates music, she said: "I really love techno [music], and a lot of the tracks have these sounds, these wiggles throughout the tracks, that are percussive. A lot of sequenced music."
The music Napoleon's system creates is alien and scratchy, rather like the backing beats on a mid-90s Radiohead track. It's unnerving and wandering, but it's also fascinating to hear sounds coming out of technology derived to facilitate communication in an entirely different way, almost 100 years later.
"You feel like an artist," Napoleon said. "You lay out the boards visually, and you're working with light and color, but they also do something—they make sounds."