Hong Kong
Starting an independent news service in today's media environment would be a challenge anywhere. In Hong Kong, it seems like a singularly bad idea.
The quality and independence of the South China Morning Post, Hong Kong's main English-language paper, is widely perceived to have declined in recent years, especially after having been acquired by e-commerce giant Alibaba last year. Two years ago, pro-democracy website House News closed down, citing political pressure and low advertising revenue. In April the Chinese-language paper Ming Pao abruptly fired a top editor following a story highlighting Panama Paper revelations about Hong Kong officials and businessmen.
For many big companies and investors, it seems, the price of journalistic independence has become too high in Hong Kong. Between 2002 and 2015, Hong Kong fell from 18th to 70th place on the Reporters Without Borders world press freedom index.
Entering this environment is an upstart newswire service called FactWire. If London has Reuters, New York has the Associated Press, and Paris has Agence France-Presse, the venture asks, why can't Hong Kong have FactWire? Writing in English and Chinese, it hopes to be sustained by two kinds of subscriptions: from the public and from news organizations that run its stories.
FactWire plans to focus on in-depth investigative journalism, without speculation or commentary. It aims to be consciously atavistic. On its crowdfunding page it holds the example of Woodward and Bernstein's Watergate reporting up against what it calls the "pervasive reign of fast-food culture and social media."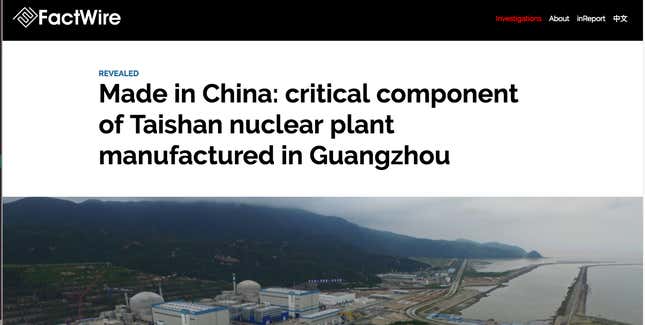 FactWire released its first stories last week, part of an investigation into the Taishan nuclear power plant in Guangdong on the Chinese mainland, just 130 km (81 miles) from Hong Kong. Key reactor components were manufactured in China, and not France, as was previously thought, and the domes of the pressure reactors have already been sealed, despite safety concerns, FactWire reported. Accompanying these articles is drone footage of the site. The Hong Kong Free Press, Now TV, and according to Ng, CableTV, ran the articles, as did FactWire's home page.
A matter of trust
FactWire founder Ng Hiu-tung is a soft-spoken Hong Konger whose unassuming demeanor contrasts sharply with the audacity of his plans. Now in his mid-forties, he started reporting while an undergraduate at Hong Kong Shue Yan University, and has been in the news business ever since.
As a high school student, Ng transcribed reports from the BBC for practice. In university, he volunteered to smuggle short-wave radios to student-guerillas rebelling against Myanmar's military junta—and ended up covering the recipients, who were hiding out in the jungles by the Thai-Burmese border.
His career would later include stints at the Hong Kong Daily News, South China Morning Post, and TVB, Hong Kong's biggest broadcaster, for which he reported from North Korea, East Timor, and Afghanistan. His work won him the Human Rights Press Award from the Foreign Correspondents' Club of Hong Kong, the Edward R. Murrow Award from the Radio Television Digital News Association for his TVB breaking news, and a New York Festivals Gold World Medal for a documentary he did for Cable TV (another Hong Kong network). He was the host (video, link in Chinese) of a production for the Radio Television Hong Kong documentary Under the Same Sky, which covered human-interest stories both within and outside Hong Kong.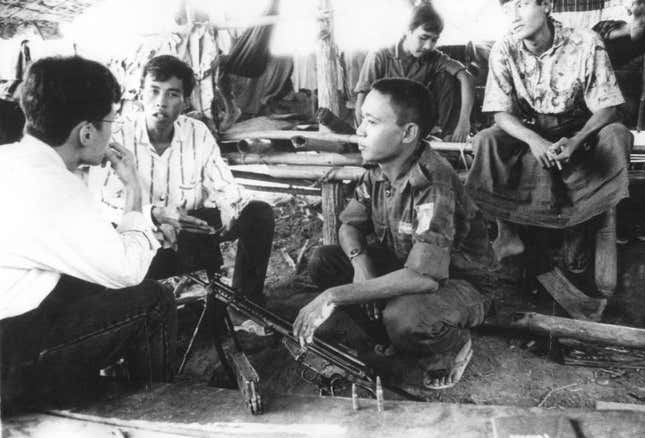 Ng recalls a freer era in Hong Kong journalism. During his nine years at TVB, he says, management never showed up in the newsroom—they knew doing so would create a sense of interference. And when he reported on a company, he would not consider who its boss was, or what his political and business interests were. But today most newsrooms in Hong Kong need to, he notes: "The ecosystem is now controlled by businessmen and tycoons."
Ng contrasts that situation to the BBC model. UK citizens pay a tax to fund the news operation, which allows its journalists "to report on the most sensitive stories without thinking about business interests." (It's worth noting that model is no panacea: The BBC's budget has come under heavy pressure in recent years, spurring crippling layoffs.)
In the absence of such a charter in Hong Kong, Ng decided that crowdfunding was the best way to fund the FactWire launch. The campaign he ran last September on FringeBacker was surprisingly successful, surpassing the HK$3 million goal to reach HK$4.75 million (US$610,000). That amount, says Ng, is enough to launch the service and keep it going for about 15 months.
FactWire's team currently consists of eight people. (Disclosure: I applied unsuccessfully for a reporter position there.) During its first year, Ng plans to focus on local news that will be free for news organizations, and available by subscription to the public, through a website and email briefings.
FactWire plans to add a paywall to its site in coming months, but may keep some information free to read. Subscriptions for the public are likely to be below HK$1,000 ($129) per year, he says.
At this point, he says, 15 news organizations in Hong Kong have signed up to take FactWire's stories, including CableTV and Now TV. In a year, he'll start charging them. While the price may vary, Ng expects they could pay about HK$100,000 annually for FactWire copy.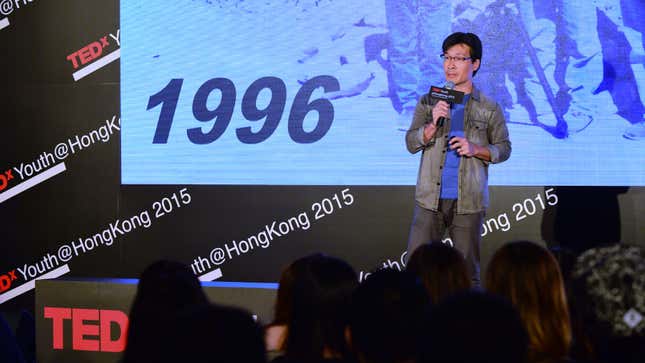 He thinks the public responded so well to the crowdfunding campaign partly because of his reputation as a journalist, but also because he made it clear FactWire wouldn't be his personal business. Though it's a private company limited by shares and Ng is its sole director, he says, its memorandum and articles of association are based on those of the Scott Trust, which was founded in 1936 to secure the financial and editorial independence of the Guardian newspaper in perpetuity.
The model precludes Ng from selling shares or receiving dividends from them. Instead, FactWire is meant to be managed on trust for the public, with all profits being invested back into its operations.
Public discontent with Hong Kong's existing media likely helped the crowdfunding campaign, too. A 2015 poll by the University of Hong Kong found public satisfaction with press freedom at 46.6%, down from a high of 78.4% in 1997.
"That FactWire managed to raise so much money speaks to Hong Kong peoples' mistrust of mainstream media," says Robin Ewing, a senior lecturer at Hong Kong Baptist University's journalism department.
"It's a gamble…"
After its first year of operation, Ng says, FactWire's coverage will become global when he opens an office in Europe. Many financial institutions are headquartered in Zurich and London, Ng says, so an office in Europe would make it easier for the news service to investigate offshore companies.
This is a difficult time for journalism in Europe and the US too, of course. Last week in London, the Telegraph Media Group made a string of senior staff cuts. Vice News axed 15 jobs last week. In March the International Business Times cut a similar number. In April Mashable let go of about two dozen staffers. The Guardian said in March it will cut 250 jobs with three years in a bid to break even, denying rumors it planned to kills its print edition.
Why does Ng think FactWire can succeed in today's environment, with so many established media groups reporting losses and cutting operations? He believes the industry turmoil is a sign that "the number of years [a news service] has been in operation doesn't mean much."
"If FactWire can show the credibility of its investigative strength, I think news organizations and the public will be willing to subscribe to it," Ng says. "The public still appreciates good journalism."
FactWire is officially registered with the government as a newswire, not a news website. That may help it avoid problems faced by another online startup, the Hong Kong Free Press, which has been shut out of government press conferences because Hong Kong officials refuse to consider an online-only organization a news outlet.
As FactWire is crowdfunded, Ng doesn't stand to lose his own money. But "it's a gamble of my reputation," he says. "My reputation can only be used once, like a credit card. I've swiped my whole life's credit card for FactWire."
There are other risks, too. Late last year a Hong Kong book publisher and four of his associates went missing one by one, after selling books banned in mainland China. In 2014, former Ming Pao editor-in-chief Kevin Lau was knifed in the street.
When I met Ng, it was not in the FactWire offices, but in a trendy co-working space in the Kwun Tong neighborhood. He says he'd rather keep the exact FactWire address a secret because "we expect that our investigative reporting will anger some people in the future… so we need to protect our newsroom."
Still, he says, "we are not so afraid that we wouldn't do our investigations. If we were afraid, we wouldn't start this in the first place. After all, you hear about traffic accidents every day. It doesn't mean you don't go out."