The wildfire that forced more than 88,000 evacuations from Fort McMurray and a few surrounding communities in northern Canada has reached over 2,000 square miles (3,218 square kilometers), and is still not under control.
Smoke from the fire—which has been nicknamed The Beast—billowed more than 4,000 miles to reach Europe earlier this week, according to NASA.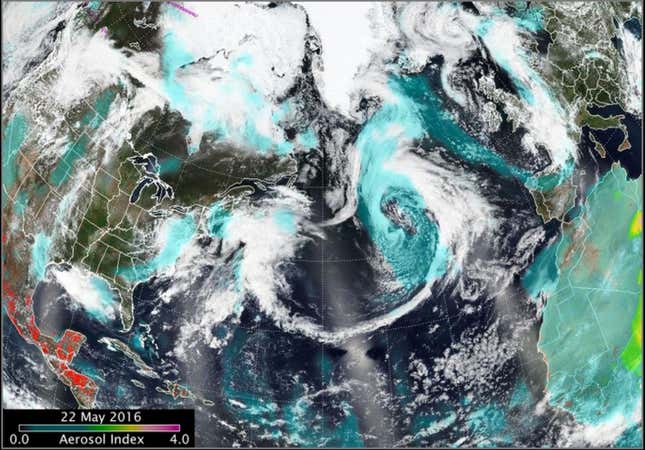 The blue in the image above represents the aerosol index (an indication of dust and soot in the atmosphere). The blue streaks skirting over Spain and the UK on the far right are a result of the Canadian fire. Smoke from the same fire also spread to Florida in the southeast US earlier this month.
Though the fire has since retreated from Europe, Alberta's fire authorities have recruited fire fighters from the US and South Africa to help try to stop it. Originally, it began in a remote forest and spread furiously as a result of unusually warm weather and low humidity. Fort McMurray residents are expected to be allowed to return to their homes, if possible, in phases on a voluntary basis starting June 1.