This morning (May 25), in an operation that the International Organization for Migration (IOM) called "a miracle," hundreds of migrants were rescued by the Italian navy, Marina Militare, off the Libyan coast in the Strait of Sicily, after the trawler that was carrying them capsized.
According to the Italian navy (link in Italian), which also shared dramatic pictures of the operation, the saving was a lucky strike. While patrolling the southern Mediterranean, one of the navy's ships saw the the trawler in precarious conditions with hundreds of people on board. The navy started rescue operations, and though the boat eventually capsized, most of the passengers were saved. According to the latest updates, 562 people were rescued and seven were found dead, though some passengers may still be missing. The trawler is likely to have left from Libya or Egypt.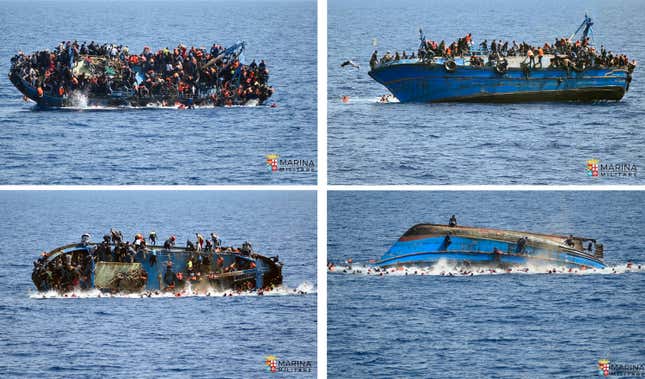 Flavio di Girolamo, spokesperson of IOM, told The Guardian, such an operation is remarkable. The navy was able to rescue not only the people on deck, but also those inside the ship, who are at higher risk of drowning as they can't escape the capsized boat.
According to IOM, in the past week alone there have been 38 rescues in the Mediterranean, with more than 6,000 people saved at sea. From the beginning of the year, over 38,000 people have reached the Italian shores—a number similar to last year's. Deaths at sea, however, have declined 24% compared to 2015.