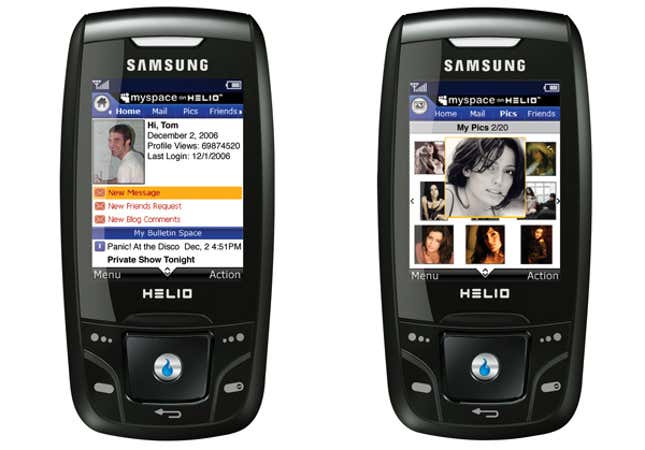 Facebook on Thursday is expected to reveal its own version of Google's Android mobile operating system that puts the social network front-and-center on an HTC phone. Which, thanks to BTIG's Rich Greenfield, reminds me…
Seven years ago, the world's largest social network, MySpace, unveiled its own phone, the MySpace Mobile, in partnership with the discount wireless carrier Helio. There it is in the image above. Here's how the MySpace phone was interpreted in a Feb. 26, 2006, news report:
For MySpace, the deal is another move to keep its users bound tightly to it, communicating with friends or listening to music from artists featured on the service. Such innovation should help MySpace avoid the fate of social-networking pioneer Friendster, whose users ended up going elsewhere when it failed to introduce new features.

The move also gives News Corp a foothold in the rapidly growing mobile market. More than 60 million teenagers now carry cell phones, and most take them everywhere they go. MySpace Mobile, which is a free service, could turn into another lucrative advertising venue for News Corp.
Of course, MySpace ended up going the way of Friendster, sold off for 94% less than News Corp. originally paid for it. Helio was acquired by Virgin Mobile USA in the summer of 2008. A few months later, Facebook topped MySpace in web traffic for the first time.