Though more and more businesses are moving operations to a private cloud, it's easy to see how the process could be overwhelming. Outlined below is the experience of one representative company—referred to as The Organization—which could serve helpful to businesses contemplating the move.
One of the main objectives for private cloud deployment is to make it easier for business end users and developers to consume resources. Prior to the private cloud investment, The Organization had highly complex and constrained data centers that were managed in silos, oftentimes through manual processes. Delays and reliability concerns caused end users and developers to often circumvent IT and look externally for resources.
In order to ensure the IT team could meet business needs, The Organization focused on asset consolidation, virtualization, and resource pooling. Additionally, The Organization streamlined and automated many IT processes associated with management and provisioning. Through extensive automation, The Organization was able to build a self-service portal, allowing for a smooth request process and rapid assignment of resources to scale an existing application or build out new functionality.
These improvements have increased The Organization's ability to innovate with agility, and has created a tighter partnership between the business and IT as a result. These investments have also allowed IT personnel more time to focus on higher value activities. The Organization's estimates of its management and project delivery time savings are outlined below: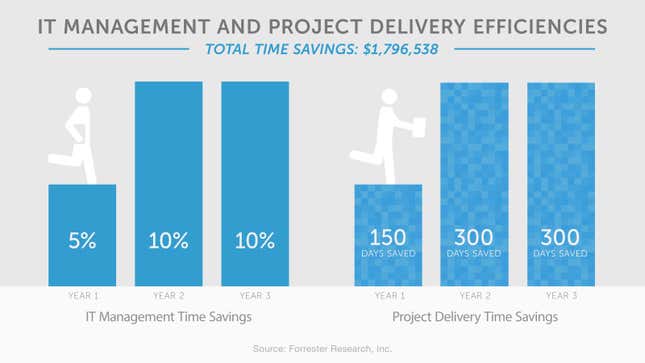 As The Organization's story indicates, embracing the potential of the private cloud can have tremendous positive effects on an IT staff, as well as the broader company.
about strategies that can help organizations enter new markets and directly engage customers using Dell Solutions powered by Intel. Intel and the Intel logo are trademarks of Intel Corporation in the U.S. and/or other countries.
This article was produced by Dell and not by the Quartz editorial staff.