Last June, the animal rights group People for the Ethical Treatment of Animals (PETA) released the gruesome details of an investigation into farms in the US and Zimbabwe that were cutting crocodiles and alligators open while still alive to harvest their highly valued skins. Those skins, it says, were destined for French luxury house Hermès. (The brand didn't deny the charges, but called it an "isolated irregularity" missed by audits designed to prevent such practices.)
About a month later, to put pressure on the company to stop using such suppliers, PETA employed an unusual tactic: The group, known for its showy protests, bought shares of Hermès International on the Paris stock exchange to voice its views as an Hermès shareholder.
Yesterday (May 31), PETA showed exactly how it is putting those shares to use. PETA representatives attended the Hermès annual shareholders' meeting in Paris, and the animal rights group used the opportunity to publicly confront Hermès CEO Axel Dumas.
In front of hundreds of shareholders and the press, a PETA France spokeswoman, Isabelle Goetz, read out allegations of cruelty to animals. "Will Hermès some day stop using exotic skins?" she asked Dumas and other board members, according to AFP.
Dumas responded by stating that Hermès strictly complies with international regulations and has its own code of conduct for suppliers as well. "You have a number of concerns regarding the treatment of animals," WWD quotes him saying (paywall). "We respect them, but we don't necessarily share your position regarding farming."
The confrontation comes a few months after PETA released another video exposé of suppliers brutally butchering ostriches in front of other birds—to provide skins to Hermès and other luxury labels, such as Prada, PETA says. (Hermès says the claim is "groundless," that it audits its suppliers to ensure compliance with its slaughter standards, and that several independent institutions monitor the ostrich farms in question in South Africa.) And it comes just one day after a Hermès Birkin bag in white Himalaya Niloticus crocodile set the all-time price record for a handbag at auction, bringing in more than $300,000.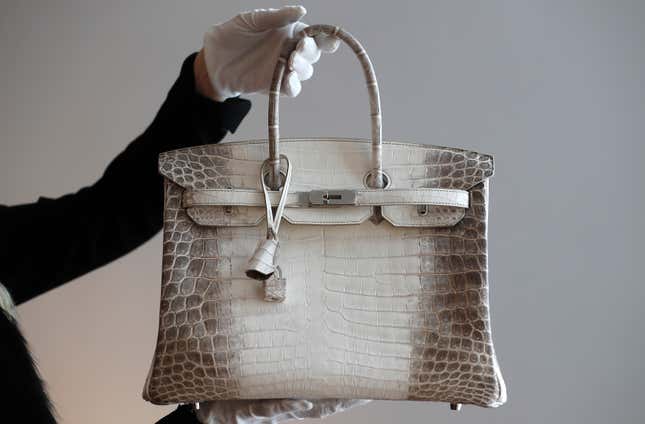 PETA's tactics have put Hermès on the defensive. After the group's report on the alligator and crocodile farms, actress Jane Birkin, whom Hermès' famed bag is named after, initially wanted the company to cease using her name. They reconciled, however, after Birkin was apparently satisfied by the actions Hermès took in response to PETA's report.
PETA owns just one share of Hermès that Anne Brainard, PETA's senior corporate liaison, says the group purchased for $370.33 in July 2015. It was enough for PETA to gain access to the annual meeting—Hermès does not have (pdf) a minimum threshold for shareholders to attend. We have reached out to Hermès for comment and will update this story with any response.
Brainard says PETA has used the tactic with other companies as well, including Denny's, Safeway, McDonald's, 3M, DuPont, and GE, but only when the group feels the company isn't making enough progress on animal welfare issues. It's been extremely effective, she adds. "A few years back we went to the Gap Inc. shareholder meeting and asked the CEO to stop selling angora," she says, referring to the soft wool taken from angora rabbits. "The CEO during the meeting agreed to ban the angora and pull all the angora from shelves and online."
PETA isn't relenting in its fight against Hermès or any other luxury brand it believes is using skins that were cruelly harvested. About a month ago, the group became a shareholder in Prada, too.
This story was updated with statements from PETA and Hermès.