Australia's central bank left official interest rates on hold today, which bulls will have seized on as a sign that previous rate cuts (text and video), most recently a drop to 3% last December, have stabilised the economy.
"Consumer sentiment and the housing market are improving in large part due to low interest rates," HSBC economist Paul Bloxham observed in a March 28 note. "Low interest rates are gaining traction."
The main signs of improvement: rising business confidence, rising house prices, and booming employment in the housing industry.
But in an attempt to create jobs and keep people feeling wealthy based on the value of their homes, the Reserve Bank of Australia may just have re-inflated Australia's huge housing bubble. Meanwhile, additional storm clouds are gathering.
Investment in Australia's crucially important mining sector is tailing off as global commodities giants cancel or postpone (paywall) new projects due to China's slowdown, which has many analysts think will deflate commodities prices. It is hard to overstate how dependent Australia's economy is on big companies digging holes in the ground. In 2012, mining investment generated half the nation's economic growth.
This chart, courtesy of Capital Economics, shows just how Australia's mining investment boom is tailing off. Manufacturers are also curtailing spending, perhaps fearing Australia is heading for hard times.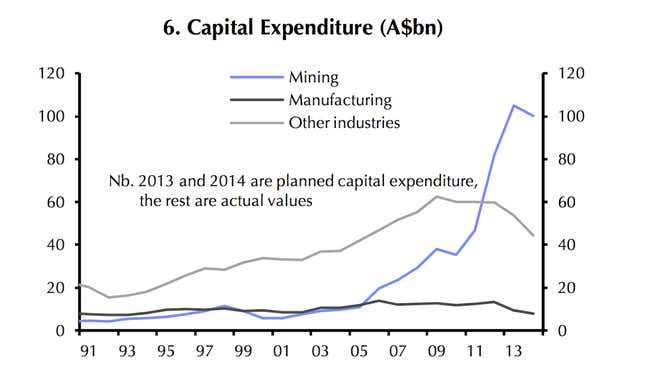 Another negative for the Australian economy is that consumers are tightening their belts, possibly in response to slowing employment growth in the mining sector. The December rate cut has increased consumer confidence, but is yet to cause a corresponding rise in retail sales.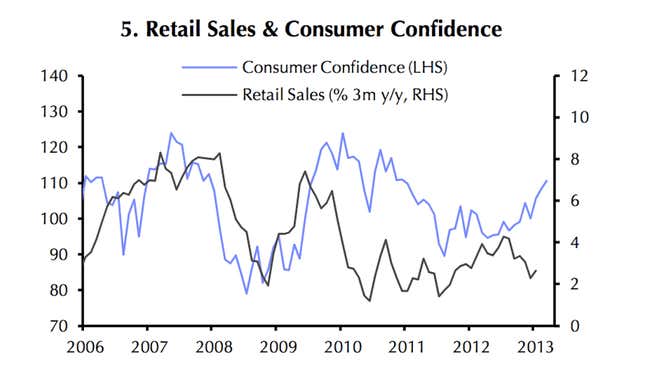 Aussies have also been saving more, which augurs badly for retailers.
Meanwhile, the outlook for capital investment remains negative. A recent Dun & Bradstreet survey predicted investment in the June quarter will hit a low not seen since 2001.