Lancôme, the global cosmetic brand owned by L'Oreal, canceled a Hong Kong event with a pro-democracy singer, after a Chinese state newspaper complained online and Chinese citizens threatened to boycott.
The company is now facing a boycott in Hong Kong.
On late Sunday night (June 5), Lancôme abruptly decided to cancel a musical performance by Denise Ho and others it was sponsoring in the neighborhood of Sheung Wan, citing "safety reasons."
Ho is one of a handful of outspoken Hong Kong celebrities who openly supports democracy—and was the first to be arrested during the 2014 Umbrella Movement protests.
In a statement published in Chinese on Monday (June 6) afternoon, the singer demanded an explanation from Lancôme's head office.
I understand that this was a decision made by Lancôme's head office. Here I demand Lancôme's head office spell out the reasons behind the decision. The company owes me and the public a proper explanation.
Freedom, justice and equality are the values cherished by the people of Hong Kong. If we are penalised for defending our rights and upholding our beliefs, this is not just about me any more. Our value system has been completely distorted.
Beijing has long banned musicians from playing in China who support Tibetan independence. But in recent years it has been increasingly successful at convincing foreign companies and entities to censor or block individuals who have spoken out in opposition to the Chinese Communist Party's actions and viewpoint. The Miss World contest essentially abandoned "Miss Canada," after China wouldn't give the human rights activist a visa, and erased her (and the country of Canada itself) from their website, for example.
The situation is particularly acute in Hong Kong, where the right to free speech is being squashed by Beijing. "The China factor in the commercial world has a direct impact on the freedom of speech and creativity in Hong Kong," musician and critic Adrian Chow wrote on his Facebook page (in Chinese). "Artists must be cautious with what they say and how they behave, so that they will not become the 'unfavorable factor' for their potential clients' businesses in mainland China…"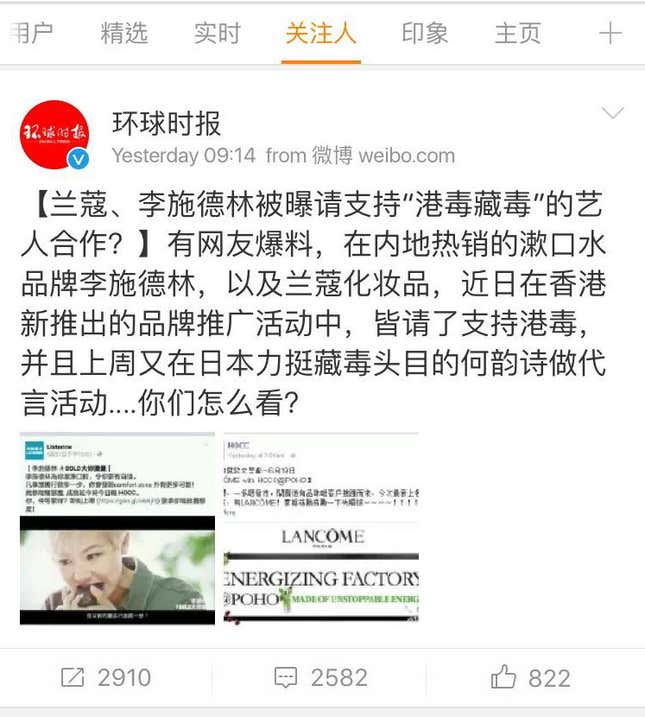 The trouble started when the state-backed Chinese tabloid Global Times asked its followers on Sina Weibo about their "views" on mouthwash brand Listerine and Lancôme hiring "Hong Kong poison" Ho ("Hong Kong poison" sounds like "Hong Kong independence" in both Cantonese and Mandarin) as a spokesperson.
Nearly 3,000 people commented and retweeted it. In a separate thread posted in response to the incident, Weibo users called for a boycott of not only Lancôme but all other brands under L'Oreal. "There are a lot [of brands] to give up but we must boycott. We must not buy them," one said.
On Sunday afternoon, Lancôme's Hong Kong office released a statement saying Ho was not a spokesperson for the brand and "apologized" for any inconvenience caused. Hours later, it followed up with another saying it was canceling the June 19 event with Ho altogether.
Lancôme pays utmost attention to its fans. The aim of the Energizing Factory Event is to create a happy and relaxing neighbourhood event. However, due to possible safety reasons, Lancôme has decided to cancel the event.
As of Monday morning, nearly 25,000 Hong Kong supporters had posted "angry" emoticons on Lancome's Facebook page, and left a rich variety of comments and photos: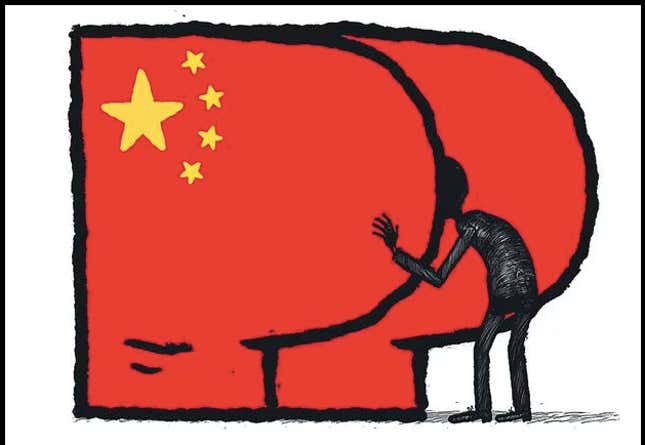 Many also called for a boycott of the brand—Hong Kong musician Ivana Wong wrote "Lancôme Bye Bye" on her social media page.
Ho, 39, is one of the few Hong Kong celebrities who is both openly gay and on the forefront of the city's campaign for democracy.
In 2014, the singer was among the last Umbrella Movement protestors still outside the government headquarters in Admiralty, and was taken away by the police, making her the first celebrity arrested for taking part in a political protest in the city.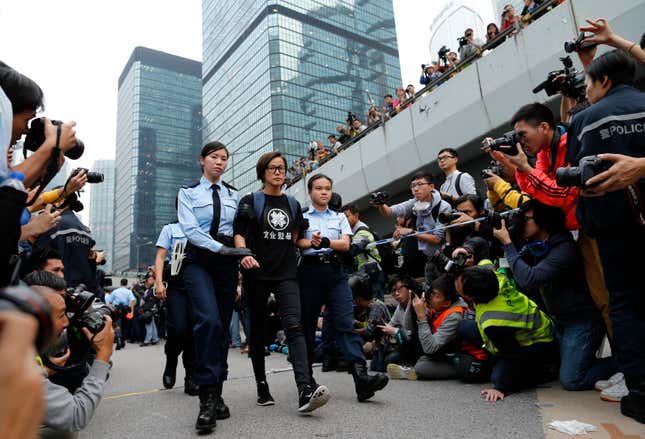 Since then, Ho has lost virtually all of her work on the mainland—accounting for 80% of her income, as well as her record deal with East Asia, a record label headed by entertainment mogul Peter Lam Kin-ngok, who has close ties with Beijing, according to Hong Kong media.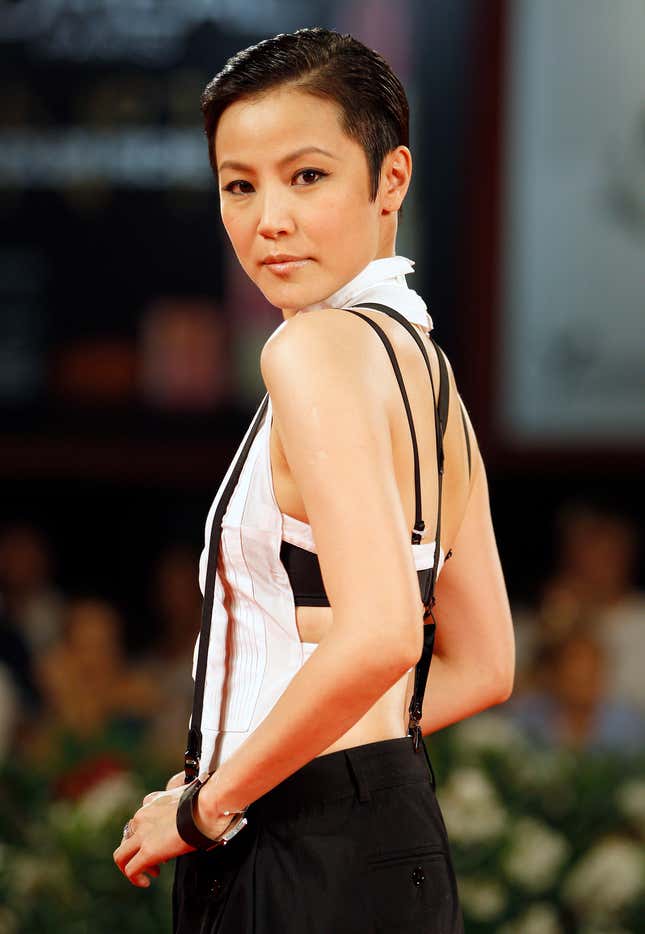 Ho told the South China Morning Post in Hong Kong in 2014 that she values freedom and democracy far more than cash, and has continued to be bold. She staged concerts in Hong Kong and opened an online shop selling lifestyle products. Last month, Ho met the Dalai Lama—the mortal enemy in the eyes of the Chinese government—on her 39th birthday.
Ho is not the only celebrity to be banished from mainland China for their support of democracy in Hong Kong. Musician Anthony Wong Yiu-ming, actor Anthony Wong Chau-sang, and actor-producer Chapman To have reportedly been blacklisted on the mainland.
The Strawberry Music Festival in Guangzhou canceled singer-songwriter Ellen Loo's performance last year after a photo of her wearing a yellow ribbon—a symbol for the Umbrella Movement—was circulated on Weibo. Musician Anthony Wong Yiu-ming, who lost all his mainland gigs, last year described the way corporations have capitulated to Beijing as no different from spreading the white terror. "It is true that it affects my income, but what is more [important] is that Hong Kong's freedom of speech is under threat," he told the South China Morning Post.
Ho's publicist could not be reached for comment.
Sales in China are a huge part of L'Oreal's business. According to L'Oreal's 2015 annual report (pdf), sales in the Asia-Pacific region were up 19.7% and accounted for nearly 23% of the total. It did not break down mainland China's contribution, but said "the Consumer Products Division is benefiting from good performances in India, Australia and Thailand, and from L'Oréal Paris, particularly in China."
What about Hong Kong? The report described it as "a difficult market."
Meanwhile, Listerine has yet to respond to the Global Times post and continues to use Ho in its Facebook cover photo. Many netizens in Hong Kong have vowed to include Listerine mouthwash in their daily dental cleansing routine.