China's internet users are notoriously unwilling to pay for most online content, from e-books to videos to music. But a new Q&A app has found a way to pry money from their hands, using the power of gossip.
Called Fenda, the app has been downloaded tens of thousands of times in China in recent weeks. In Chinese, fen da means "one-minute answers." Q&A sites like Quora create a free market for exchanging information, while Fenda demands users pay to ask questions—but, if they ask really good questions, they can actually make a profit. It also allows them to cash in by providing answers. When celebrities are involved, it's a bit like Reddit's "Ask Me Anything" function, except with money involved.
The idea that you can earn money by raising good questions is unprecedented, at least on China's internet. Launched at the end of May through the popular messaging app WeChat, Fenda's focus is "paid knowledge sharing," the owner says. It also offers an Android app, and is developing one for iPhones.
How it works
Let's say you're a seasoned investor. You create an account on Fenda and list skills like "investing" or "stock-picking." Then you assign your answers a price, depending on what you think they're worth.
As a newbie investor, I may want opinions on trading a specific stock, let's say Alibaba, and I am willing to pay a price to ask you, in writing on your Fenda page. You give me an answer, via a voice message (which is popular in China) that is less than 60 seconds long.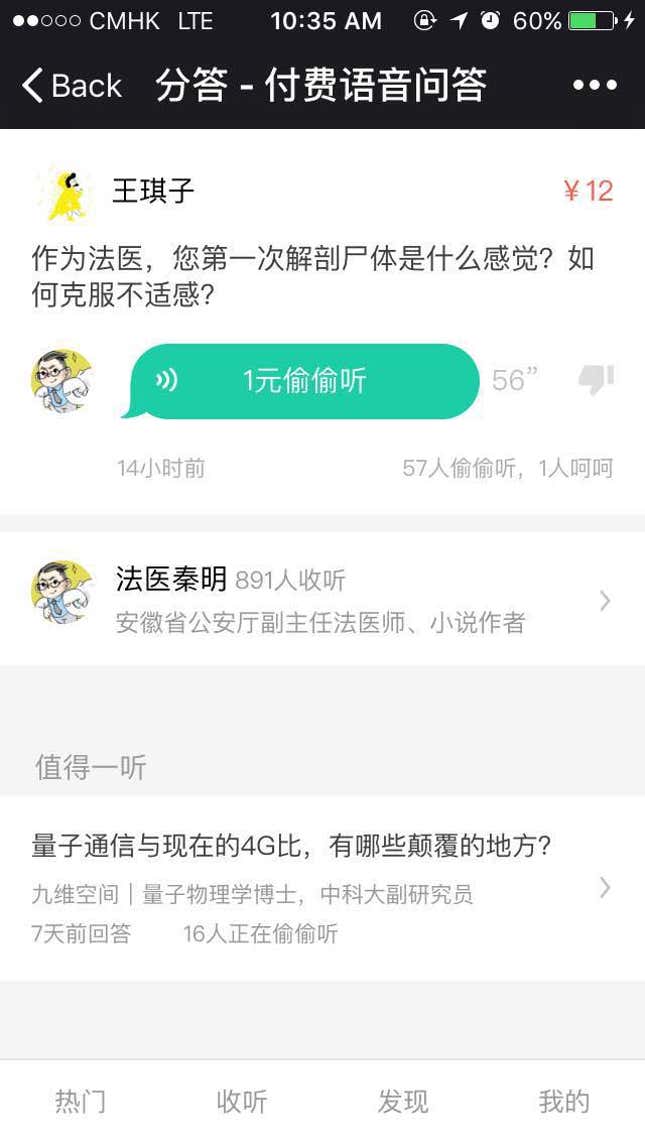 Or, you can also ignore the question, and the money will be returned to me in 48 hours.
My question is public and other users, who, might be curious about Alibaba, can pay one yuan (15 cents)—which is split between you and I—to listen to your answer. If enough other users listen to your answer, I can cover what I paid, and even make a profit, and you make money.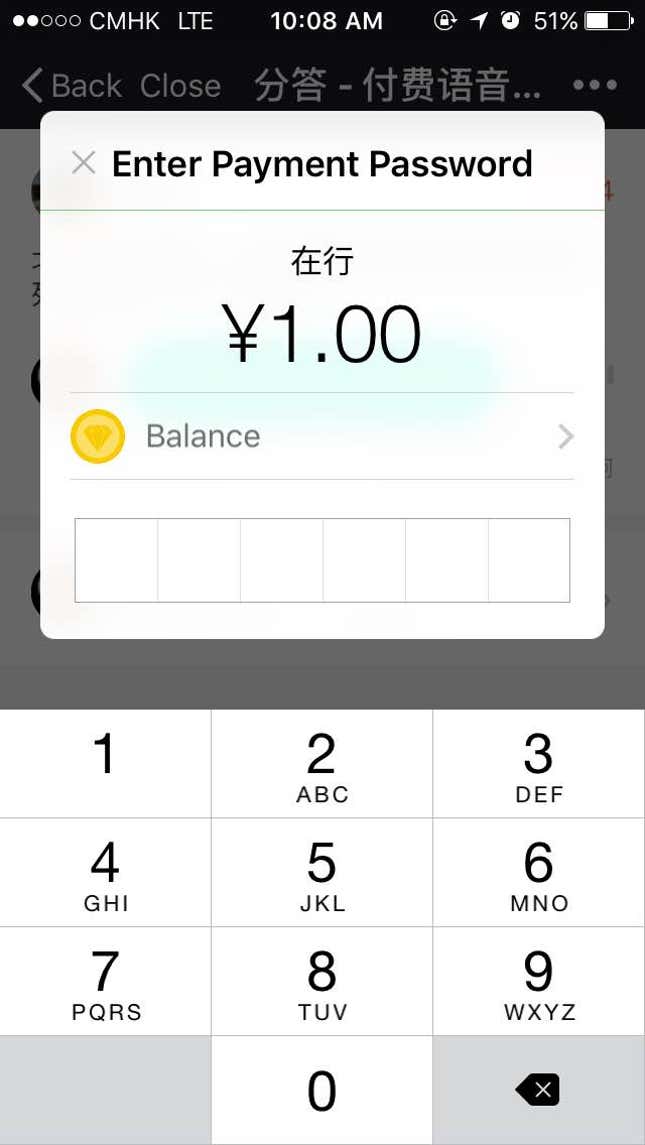 Fenda itself takes a 10% cut of all users' income. The entire thing works seamlessly in China because everyone is using mobile payments linked to their bank accounts.
Gossip is where the real money is
While there's plenty of demand for stock tips, the real reason for Fenda's popularity is somewhat tawdry.
The most popular questions on the platform are about the personal lives of celebrities. Fenda has been aggressively inviting famous actors, singers, and athletes to register to the service and lure their fans to join.
So instead of a Quora-type "knowledge marketplace," Fenda is really more like a subscription-only celebrity gossip magazine.
Take Wang Sicong, the son of China's richest man (Wanda Group founder Wang Jianlin), who is something of an internet celebrity. He enjoys flaunting his wealth online and once shared a photo of his pet husky wearing two gold Apple Watches.
He's answered dozens of questions about everything from his sex life to his experience studying abroad, earning around $37,000 in the process. His answers are now priced at 4,999 yuan (around $760), one of the highest on Fenda. But this doesn't stop users from asking him more questions, because one of his answers could easily be listened to thousands of times, bringing considerable profits to whoever asked the question.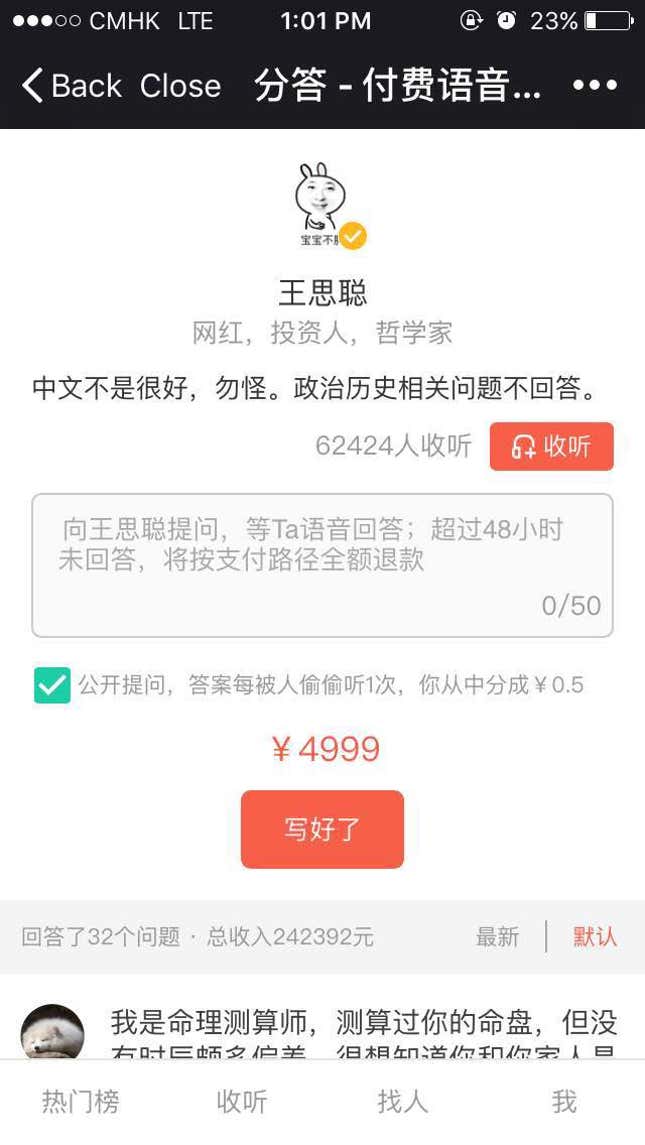 "As the son of Asia's richest man, what can't you afford in your life?" one user asked him last week, and paid 3,000 yuan for the privilege. Wang answered:
For the stuff that can be sold regularly, there's nothing I can't afford. But from a philosophical perspective, many things can't be sold, like freedom and dignity, they can't be bought in definition.
But as a Chinese, a Chinese who was born and grew up in China, I would think twice before I buy some things, for example some overly extravagant things, some things that would raise public anger.
(And, yes, that was his entire answer, delivered in a 45-second voice message.)
More than 20,000 users listened to this answer. The person who asked it earned more than $1,500.
Some users just want to hear their idols' voice. One female fan paid 2,999 yuan to tell Zhang Ziyi—star of the movie Crouching Tiger, Hidden Dragon—that "I haven't taken a break for three days in a row because my mind can't stop thinking," although she didn't specify what about. "Who can save me?," the fan asked. Apparently, what Zhang answered doesn't matter to many people—only 81 users listened to it.
Actual experts, like economists and doctors, don't fare as well on Fenda. They usually charge less for their answers and attract a smaller audience. Mao Yushi, a well-known economist, prices his answer at 100 yuan, and normally gets around 100 listens.
Anyone is an expert
A day of experimenting with Fenda myself proved that gossip matters more than knowledge even for ordinary users. I tagged myself as a "foreign media writer," a former World of Warcraft (a Blizzard online game) player, and former debater—areas that I think I have some thoughts to share. I posted a link to my Fenda page on my WeChat feed, to an audience of around 600 friends, acquaintances, and strangers.
So far I have only received two questions, and neither of them are related to my expertise. One friend asked me, "Do you have any advice on relationships?" I'm not a relationship expert, but I did my best with an answer. Another buddy asked if I prefer young-looking women or mature ones for dating.
Why did he pay me two yuan for my answer? Just curious, I guess.